Two aircraft collided over Colorado on 12 May, with both landing safely despite extensive damage.
The FAA confirms on 12 May that the mid-air collision involved a Cirrus SR-22 with two passengers aboard, and a Key Lime Air Fairchild (Swearingen) Metroliner SA226TC, with just one pilot aboard.
It occurred 4 miles north of Centennial Airport, which is about 30 miles south of Denver International airport, at about 10:25 local time.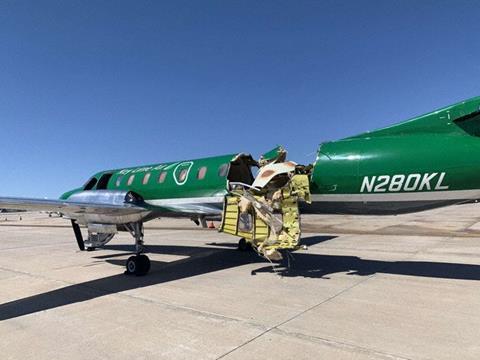 "The pilot of the Cirrus deployed the aircraft's parachute and landed in a nearby. The pilot of the Metroliner landed at Centennial airport," the FAA says in a preliminary statement. "We have no reports of people on the ground being injured. The FAA and National Transportation Safety Board will investigate."
The NTSB has sent a team to the location and is "still gathering information".
"Initial report indicates collision happened as airplanes were landing," the NTSB adds.
Photos circulating on social media show the Metroliner missing a large chunk of its aft, upper fuselage. According to Cirium fleets data, the aircraft, which has registration N280KL, was built in 1979.
Key Lime Air could not immediately be reached for comment.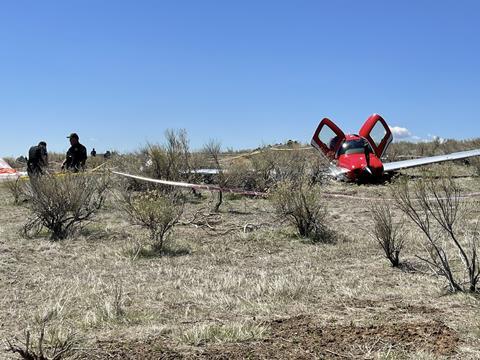 A spokesperson for the County Sherriff's office says neither of the people on the Cirrus were injured. That aircraft came to rest in a state park.
"The single-engine plane that crashed in the field was occupied by two persons. The plane deployed a parachute which allowed it to safely land, and both occupants were able to walk away from the crash," says spokesperson John Bartmann.