The US National Transportation Safety Board's (NTSB) long-running quest to have video cameras installed in aircraft cockpits continues, with the agency again recommending that regulators require the recorders.
The safety investigation agency made the recommendation in its 2021-2022 list of "most-wanted" transportation safety improvements, released on 6 April.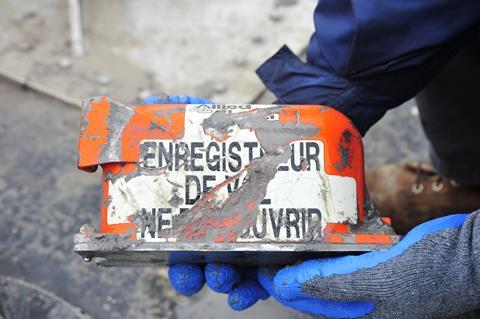 The NTSB recommends that the Federal Aviation Administration require new and in-service commercial jets be equipped with a "crash-protected cockpit image recording system".
US regulations require airliners have flight-data and cockpit-voice recorders, but not video- or image-capturing devices.
The NTSB has for more than a decade been urging the FAA to make image recorders mandatory.
"Such video would have been extremely helpful in determining flight crew actions in recent crashes in Texas, Indonesia and Ethiopia," says the NTSB.
An Atlas Air Boeing 767-300 Freighter went down near Houston in 2019 and an Ethiopian Airlines 737 Max crashed in 2019. Recent crashes involving Indonesian airlines include a Lion Air 737 Max that crashed in 2018 and the January crash of a Sriwijaya Air 737-500.
The NTSB's recommendations also include a call for regulators to require that turbine-powered helicopters be equipped with flight recorders that collect audio and images.
Additionally, the FAA should require all operators of revenue-passenger carrying aircraft to have safety management systems (SMS), which are organisation-wide safety structures. The FAA has required airlines to have SMS since 2015.
Calls for cockpit video recorders have long been opposed by pilot unions, among them the Air Line Pilots Association, International (ALPA).
Though ALPA did not immediately provide a comment, the union has previously described cockpit video recorders as an invasion of privacy. ALPA has said images and video provide "imprecise" information, and has insisted investigators already have tools needed to determine accident causes.
The FAA tells FlightGlobal that "video image recorders in cockpits raise significant privacy and security concerns that to date have not been adequately addressed".
"While the FAA encourages the voluntary use of these devices… we do not believe it is appropriate to mandate image recording systems until privacy and security issues are more completely addressed," the agency adds.
However, the FAA is "involved at the international level on work to define other types of image recorders", it adds. Such devices could capture images of cockpit displays or show the "position and selection of buttons, knobs and switches".
"The FAA has a close working relationship with the NTSB, and the two agencies share a common goal of promoting aviation safety and preventing aircraft accidents," says the regulator. "The FAA takes NTSB recommendations very seriously, and the agencies agree on a course of action about 80% of the time."
Story updated on 8 April to include a comment from ALPA, below.
"ALPA has long recommended that any additional resources should be focused on enhancing current safety systems to record more data of a higher quality as opposed to video images, which are subject to misinterpretation and may in fact lead investigators away from accurate conclusions", the union says.
"Flight deck image recorders will not improve safety and could, in fact, impede it by diverting limited resources that could be used for more-valuable safety enhancements," ALPA adds.
The group remains concerned about how "video recordings may be misused" and insists the industry must "fully address how to protect recorded information".