The head of the US National Transportation Safety Board (NTSB) will warn lawmakers on 7 February about the risk of a potential looming "catastrophic" airline accident at a US airport.
The warning from NTSB chair Jennifer Homendy will come during a House hearing three days after what appears to have been an incredibly dangerous runway incursion event involving Southwest Airlines and FedEx jets at Austin.
Homendy will also highlight the need for improved cockpit voice recorders, noting that recordings from two other recent runway incidents had been unavailable to investigators.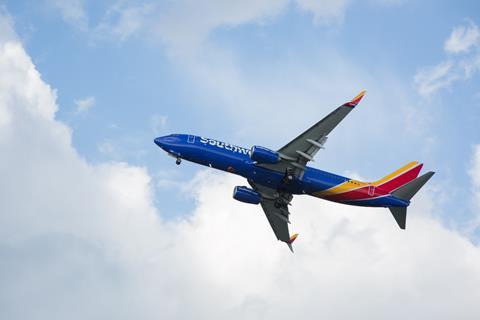 That is according to Homendy's written testimony to a 7 February hearing of the House Committee on Transportation and Infrastructure. Several aviation leaders will testify at the meeting, which lawmakers called to address the Federal Aviation Administration's next budget bill.
Homendy's written testimony, reviewed by FlightGlobal, does not cite the FedEx-Southwest near miss at Austin on 4 February.
But it mentions several previous serious runway incidents involving commercial jets. Those include an Air Canada aircraft that nearly landed on a San Francisco airport taxiway in 2017, and two 2022 incidents involving large jets landing on runways different from those assigned.
"Although there were no injuries or damages due to these two incidents, they, along with the Air Canada event… illustrate the potential for a catastrophic accident," the testimony says.
This year, US commercial jets have been involved in at least two other serious airport incidents.
The 4 February event involved a FedEx Boeing 767 attempting to land in Austin as a Southwest 737 was taking off on the same runway. The FedEx pilots broke off their approach. Details remain unconfirmed, but Homendy says the jets might have come within 100ft (30.5m), according to a Politico report.
Less than three weeks prior, on 13 January at New York's John F Kennedy International, a Delta Air Lines 737 aborted its take off roll after an American Airlines 777 was crossing the same runway.
The FAA and NTSB are investigating both incidents.
Homendy's written testimony notes that cockpit voice recorder (CVR) limitations have prevented NTSB investigators from accessing recordings from both the January JFK incident and the 2017 Air Canada near miss at San Francisco.
FAA regulations require CVRs be capable of recording only 2h of audio. As a result, "valuable CVR data continues to be overwritten and therefore unavailable for safety investigations", Homendy's written testimony says.
It adds that the NTSB has previously recommended that the FAA mandate 25h of recording time for CVRs.
The testimony addresses other aviation-safety topics. It calls for tighter oversight of small aircraft carrying revenue passengers, more-restrictive flight-hour limitations for pilots of cargo aircraft, and improved turbulence reporting.