The US National Transportation Safety Board (NTSB) has recovered the flight data and voice recorders from the McDonnell Douglas MD-87 that crashed during an attempted take-off from Houston Executive airport on 19 October.
The recorders suffered "fire damage" and are now being shipped to Washington, DC, where technicians will work to download data from the devices, NTSB board member Michael Graham says on 20 October.
All 21 people aboard the aircraft, which was operating under non-commercial Part 91 rules, evacuated the jet, the Federal Aviation Administration has said.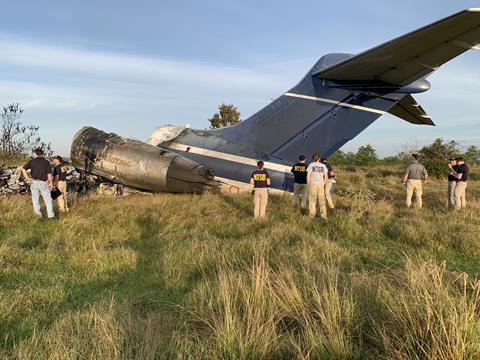 Two of those people suffered "minor injuries", Graham says. "It's a big deal that we had no fatalities."
He provided few new details about the incident, which caused the aircraft (registration N987AK) to erupt into flames. The fire destroyed the jet.
"There actually isn't a lot of wreckage out there," Graham says. "The main fuselage is pretty much burnt all the way to the ground, and collapsed on itself."
"About the only" section not destroyed was the jet's tail, including the vertical and horizontal stabilisers and the two Pratt & Whitney JT8D turbofans, Graham adds.
The MD-87 was taking off from Houston Executive's Runway 36 at about 10:08 local time. "The aircraft exited the paved surface and struck the perimeter fence of the airport," says Graham. "The debris path extended beyond the airport fence, and it also suggests that the left wing struck trees" before the aircraft came to rest.
The MD-87 also took out electrical lines during the crash, and photographs suggest it left tire tracks on the runway.
NTSB investigators have started the process of interviewing crew, passenger and other witnesses, and have started documenting "ground scars" and examining the jet's engines. The NTSB has also "secured our first batch of maintenance records for the aircraft", Graham says. Boeing, which combined with McDonnell Douglas in 1997, is part of the investigation, he adds.
US television network ABC has carried video footage – not independently authenticated by FlightGlobal – purportedly of the beginning of the take-off roll, which appears to show a brief jet of pale smoke apparently emerging from the rear of the left engine.
"That is obviously something we are interested in," Graham says when asked about the video. "We will not be sharing any preliminary indications at this time."
The aircraft, manufactured in 1988, was owned and operated by a company called "987 Investments", according to Cirium data.