The National Transportation Safety Board (NTSB) has pulled from the Pacific Ocean the wreckage of a Boeing 737-200 Freighter that crashed off the coast of Hawaii in July.
The NTSB recovered the jet's two flight recorders and "all major components" of the aircraft, which was operating Transair flight 810 when it crashed near Honolulu on 2 July, the NTSB says on 2 November.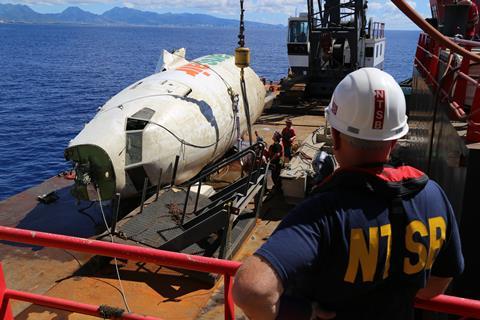 "The recovery of the recorders and virtually the entire airplane represents a major step forward in the investigation," says NTSB chair Jennifer Homendy.
The 737-200F crashed at night, shortly after take-off from Honolulu's Daniel K Inouye International airport. The two pilots had reported "anomalies in both engines and subsequently ditched" into the Pacific, the NSTB had said in September.
The NTSB also released silent video of the recovery.
The pilots escaped the aircraft unharmed and were rescued by the US Coast Guard.
"An underwater survey of the accident site conducted in July revealed that the fuselage broke into two pieces: the aft section with the wings and tail attached, and the forward section that includes the cockpit," NTSB says. "Both engines separated from the wings at impact. The forward landing gear assembly also separated from the fuselage."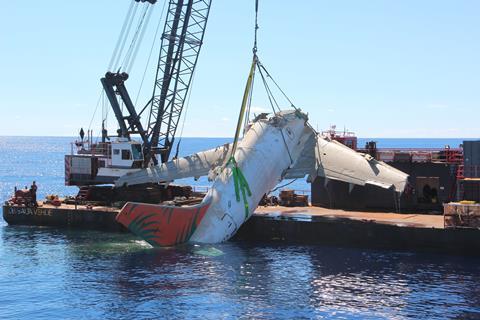 The wreckage came to rest on an ocean shelf at depths ranging from 350-450ft (107-137m).
The engines, two fuselage sections (including cargo containers inside) and smaller aircraft components that separated from the main wreckage were recovered and brought to shore. The recovery was completed on 31 October, NTSB says.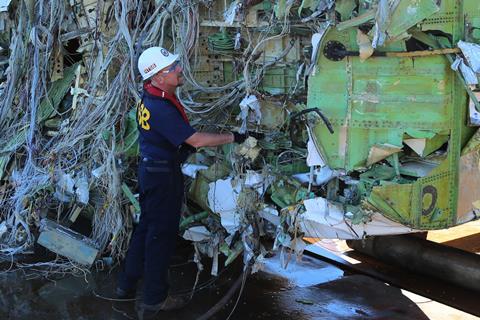 The flight data recorder and the cockpit voice recorder will be transported to the NTSB's laboratory in Washington, DC, where they will be cleaned, dried, downloaded and analysed, the agency says. The investigation of the crash is expected to take 12-24 months.