The National Transportation Safety Board (NTSB) has deployed a team to Hawaii for the purpose of helping recover the sunken wreckage of a Boeing 737-200 Freighter that crashed into the Pacific Ocean in July.
The work of recovering the jet, which was operated by Rhoades Aviation under the airline brand Transair, will begin around 9 October, the safety investigation agency says on 30 September.
The NTSB hopes to recover the jet's cockpit voice recorder and flight data recorder, which are located in the wrecked jet's aft fuselage.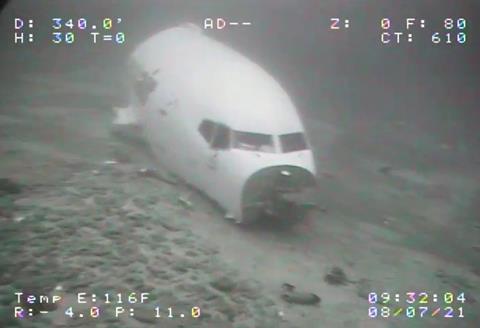 "The recorders are of particular interest to investigators because of the flight and cockpit information they can provide about the performance and operation of the airplane," the NTSB says. "The recorders will be transported to the NTSB recorder laboratory in Washington, DC, where they will be downloaded for analysis."
Transair's insurance provider contracted with several companies to complete the recovery. The effort will involve a research vessel equipped with remotely-operated underwater vehicles, and a barge equipped with a crane.
"Several NTSB investigators will be aboard the research vessel to coordinate the recovery effort," says the agency.
The 737-200F crashed at night on 2 July, shortly after take-off from Honolulu. The pilots of flight 810 had reported "anomalies in both engines and subsequently ditched" into the Pacific, the NSTB says.
Only two people – the pilots – were aboard, and both were rescued by the US Coast Guard.
"The fuselage broke into two pieces: the aft section with the wings and tail attached, and the forward section that includes the cockpit. Both engines separated from the wings at impact," says the NTSB.
The jet's wreckage lies about 2 miles (3.2km) off Honolulu's coast at a depth of 350-450ft (107-137m), the NTSB says.
"The wreckage of Transair flight 810 contains important investigative information, including that captured by the flight data recorder and the cockpit voice recorder," says NTSB chair Jennifer Homendy. "Having access to the recorders, the engines and other components will be critical to understanding not only how this accident occurred, but how future accidents might be prevented."