A fractured landing gear component prevented the pilots of a Delta Air Lines Boeing 717 from lowering the nose gear during a flight on 28 June that ended with a gear-up landing.
That is according to a preliminary report released by the National Transportation Safety Board (NTSB), which identified the defective part as an "upper lock link".
"A post-accident examination of the nose landing gear system revealed a fractured upper lock link," says the NTSB's report.
"Due to the fractured upper lock link, the lower lock link was free to swing down to a vertical position and made contact with the nose landing gear assembly and thereby restricted its movement," it adds.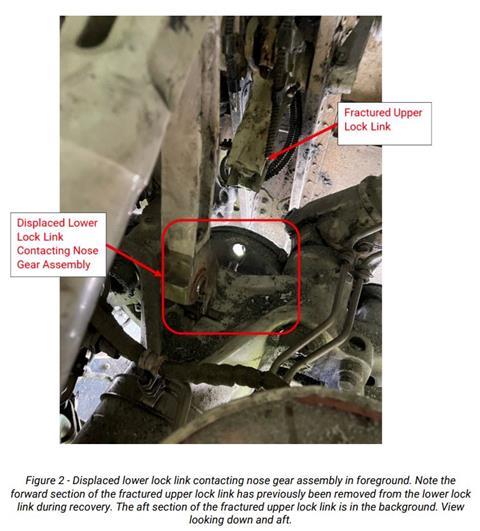 The NTSB is examining the fractured lock link at its materials laboratory and is reviewing the jet's cockpit data and cockpit voice recorders, and maintenance records.
None of the 104 passengers and crew on the aircraft (registration N955AT) were injured during the incident, which involved Delta flight 1092 from Atlanta to Charlotte.
The NTSB says the first officer attempted to lower the landing gear as the aircraft was approaching Charlotte, at an altitude of about 2,000ft and at about 09:00 local time. That action caused a "nose wheel unsafe condition" light to illuminate in the cockpit, which prompted the pilots to perform a go-around and to troubleshoot the issue.
They several times attempted to lower the gear, including by a manual method, but were unsuccessful, says the safety investigation agency.
Ultimately, the pilots landed with the nose gear retracted. The jet's nose touched the runway at about 80kt (148km/h) and the aircraft came to a stop, after which fire crews doused it with water.
"After the fire chief verified that the area was safe, an evacuation was performed through the two forward entry doors with the passengers utilising emergency slides," the NTSB says.