The National Transportation Safety Board (NTSB) has urged US and Canadian aviation regulators to require Bell 407 operators to complete immediate inspections of those helicopters' tail boom attachment components.
The NTSB made the recommendations on 2 December based on findings from its investigation into the June crash of a 407 in Hawaii that injured six people, including two seriously.
The 407 crashed during an air tour flight after its "tail boom separated", the NTSB says. Investigators determined that one of the aircraft's four boom attachment bolts had failed, and that others had been fractured from stress and overload.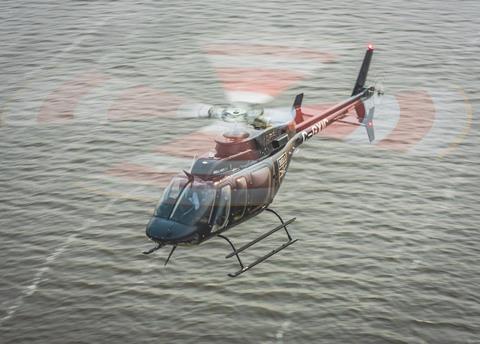 "We are concerned that there may be additional Bell 407 helicopters with missing or fractured tail boom attachment hardware, and the potential for catastrophic failure warrants immediate and mandatory action," says the NSTB's recommendation report. Additional inspections "increase the likelihood of detecting fractured attachment hardware before a catastrophic failure can occur."
The NTSB is recommending that the Federal Aviation Administration and Canadian aviation regulator Transport Canada require "Bell 407 operators to conduct an immediate inspection of the tail boom attachment hardware, and to reduce the inspection interval from 300h to a more-conservative number".
The inspections should include a visual and "torque check of the tail boom attachment fitting for evidence of cracks and fractures".
"With hundreds currently in service, the Bell 407 helicopter is a popular model among tour operators, police departments, air ambulance providers and many others, which is why our finding is so urgent," says NTSB chair Jennifer Homendy.
Globally, 1,575 407s are in service, according to Cirium data.
Bell, which makes 407s in Mirabel, Canada, did not immediately respond to a request for comment. Powered by a single Rolls-Royce M250 turboshaft, the helicopters can carry six passengers (with one pilot) and fly at 133kt (246km/h). They have 337nm (624km) range, according to Bell.
Transport Canada, which, under typical regulatory practices, leads oversight of Canadian-made aircraft, did not immediately respond to a request for comment.
The FAA tells FlightGlobal that on 18 November, in response to the June crash, it issued an alert to operators "about Bell 407 helicopter tail booms separating from the fuselage during flight".
In the alert, the FAA notes it has since 2012 required operators to check the torque of 407 tail boom fasteners at least every 300h of service time.
The NTSB says the 407 that crashed in June lost its tail boom only 114h after a torque check. The aircraft had been operated by a company called Paradise Helicopters.
"About 30min into the flight, the helicopter began an uncontrolled spin to the right", then descended and crashed. The tail boom had detached in flight, coming down 762ft (232m) from the rest of the aircraft, the NTSB's recommendation report says.
It stresses that the investigation remains ongoing and that it has not yet identified all factors leading to the crash, including why one of the aircraft's boom attachment bolts separated.