The US National Transportation Safety Board (NTSB) is urging US and Canadian regulators to immediately require inspections of De Havilland Canada DHC-3 Otters following a deadly September crash.
"The NTSB urgently recommends the FAA and Transport Canada require all operators of De Havilland Canada DHC-3 airplanes to conduct an immediate one-time inspection of the horizontal stabiliser actuator lock ring," the US accident investigator says on 27 October.
"Immediately action needs to be taken," the NTSB adds, noting Canada's Viking Air, which owns the DHC-3's certificate, has urged operators to complete inspections.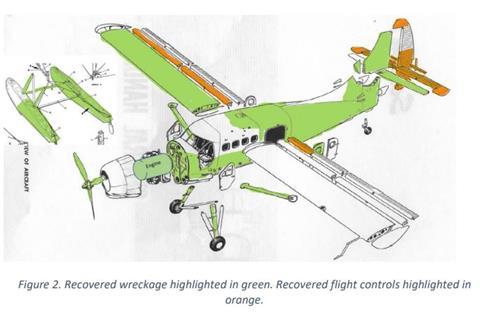 On the evening of 4 September, an Otter (registration N725TH) crashed into Mutiny Bay in Washington state while operating a scheduled flight. One pilot and nine passengers died. Northwest Seaplanes, doing business as Friday Harbor Seaplanes, operated the aircraft, according to the NTSB.
After the US Navy recovered most of the aircraft, NTSB investigators determined that the Otter's "horizontal stabiliser actuator had separated into two pieces at a threaded assembly fitting".
Specifically, the actuator's "clamp nut" backed out by "unthreading", leaving two disconnected sections. The upper portion was still attached to the horizontal stabiliser and the lower portion was attached to the fuselage, the NSTB says.
To prevent such a scenario, the assembly should have a "wire lock ring", held in place by a tab sitting inside a hole in the clamp nut. The NTSB did not recover that ring but found damage to the holes, suggesting the ring may have come off.
"Unthreading of the clamp nut and the barrel during flight would result in a free-floating horizontal stabiliser," the NTSB adds.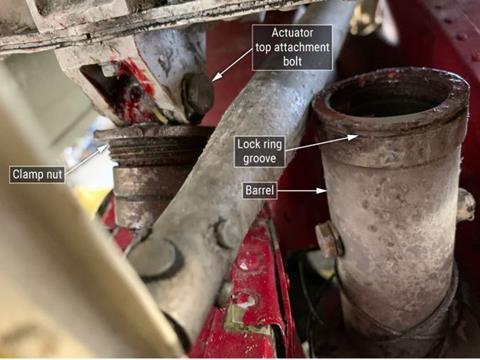 Asked to comment, the FAA says it "is contacting DHC-3 operators in the United States to ensure they are acting on the aircraft manufacturer's service letter. The FAA remains in close communication with Transport Canada, which certified the DHC-3."
The FAA says it may take additional steps based on actions taken by Transport Canada, which leads oversight of Canadian-manufactured aircraft.
Transport Canada did not immediately respond to a request for comment.
Viking's 26 October service letter calls on operators to immediately "visually confirm that the stabiliser actuator lock ring is present, correctly seated in the groove in the upper housing… and the lock ring tang is engaged in the clamp nut".
The NTSB says US companies operate 40% of the global DHC-3 fleet.
Viking Air is supporting the NTSB's investigation, the manufacturer says, noting it issued a service letter to all operators and maintainers on 26 October. "The service letter recommends that operators visually confirm that the locking ring associated with the DHC 3's stabiliser actuator is present and correctly installed."
Story updated on 1 November 2022 to include the above comment from Viking.