Investigators have found that over-rotation, coupled with tailwinds, caused a Singapore Airlines Boeing 737-800 to suffer a tail-strike while taking off from Kathmandu airport.
Releasing its final report into the 6 May 2022 incident, Singapore's Transport Safety Investigation Bureau (TSIB) also found that the aircraft had climbed above the minimum safe altitude before the flightcrew began to check for a tail-strike.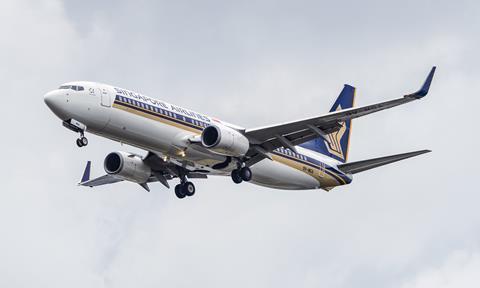 The aircraft (9V-MGL) took off from Kathmandu airport at around 09:13 local time, when the pilot monitoring "felt a light thud" on rotation, but noted "no engine parameter anomalies".
Cabin attendants also reported hearing a scraping sound after take-off, leading the flightcrew to suspect a tail-strike had occured. The TSIB notes the aircraft was not fitted with a tail-strike warning indication system, which is only found in 737-800s equipped with head-up displays.
Flight-data recorder information showed that the aircraft's pitch angle reached 11.07° before the aircraft lifted, far higher than the normal pitch angle range; the aircraft's rotation pitch rate was greater than 3-5° per second, the data revealed.
The TSIB also notes that the flightcrew did not review the checklist for a tail-strike as the aircraft was climbing out of Kathmandu, electing to do so once they reached the minimum safe altitude of 14,400ft.
At 15,000ft, the crew reviewed the tail-strike non-normal checklist, and diverted to land at Kolkata, where inspections confirmed that the skid shoe of the tail-skid assembly had come into contact with the runway.
However, there was no damage to the aft fuselage structure, nor were there any injuries reported on the flight, which was carrying eight crew members and 165 passengers.
In its analysis, the TSIB says over-rotation was a likely cause, noting that there were tailwinds of about 10kt (18.5km/h) along the runway.
It said the flightcrew "could have considered" starting the tail-strike checks while still climbing to the minimum safe altitude.
"The incident aircraft did not have a tail-strike warning indication system installed. If such a warning indication system was available in the flightdeck, it would have helped the flightcrew make better decision as to whether to perform the tail strike [non-normal check] urgently," writes the TSIB, which has urged Boeing to consider making the tail-strike warning indication a standard feature on the flightdeck.
It also recommends that SIA re-emphasise proper rotation techniques to reduce the likelihood of tail-strikes, as well as "targeted guidance and training for aerodromes at high elevations", which includes Kathmandu airport where the incident happened.
According to Cirium fleets data, the aircraft was delivered to now-shuttered SIA unit SilkAir in 2015. It was parked in 2020 amid the coronavirus pandemic, and transferred to mainline SIA operations in 2021.