Pilot fatigue likely contributed to an unstable approach and runway excursion involving a Mahindra GA8 Airvan, where the aircraft ended up partially submerged in seawater and substantially damaged.
The accident occurred on the morning of 6 April when the Shine Aviation charter aircraft (VH-TBU) landed on runway 18 at Rat Island, which lies off the west coast of Australia, to the northwest of Perth, according to the Australia Transport Safety Bureau's final report into the incident.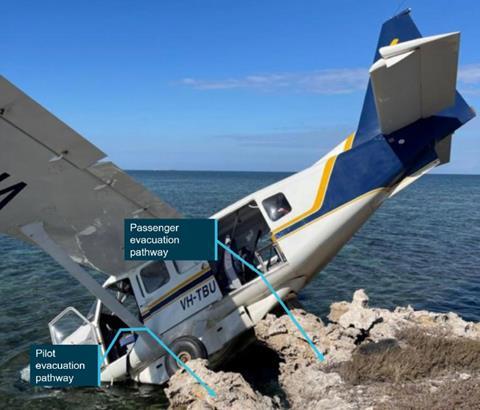 The aircraft had departed Geraldton with a pilot and six passengers, none of whom were injured in the accident. A weather station 31 miles (50km) north suggested winds were blowing from 110°, varying between 9-10kt.
The pilot had 790h of experience, with 157h on the GA8. He had worked at Shine Aviation for one year and had often flown to Rat Island.
"The ATSB found that the aircraft was unstable during the approach due to excessive height and airspeed," says the report.
"During the landing, the aircraft floated for a significant time and touched down approximately halfway down the runway, with insufficient remaining runway to stop. While the pilot recognised opportunities to conduct a go-around when they determined they were not on the correct approach profile, this was not conducted."
Using data from the operator and video footage from a passenger's mobile phone, the ATSB determined that the aircraft touched down about 810ft (247m) beyond the runway threshold. The pilot tried to brake, but realised the aircraft could not stop before the end of the runway. The aircraft came to rest at the island's edge and tipped into the water.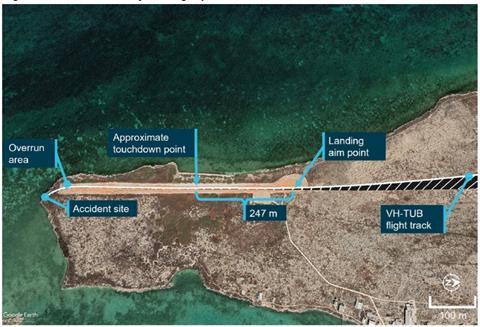 Water flooded to shin height in the cockpit. The six passengers evacuated through the left rear door and the pilot through the left cockpit door.
The aircraft remained in the water for several days before being airlifted back to Geraldton. The accident damaged its nosewheel, propellor, right landing gear, and cargo pod.
"There was evidence that the pilot was possibly experiencing mild to moderate acute fatigue at the time of the occurrence," says the ATSB.
"This was due to a combination of some restricted sleep in the previous 24 and 48 hours, and lack of sustenance that morning. However, it is difficult to conclude whether fatigue impaired the pilot's actions in response to identifying the unstable approach and electing not to conduct a go-around."
As a result of the accident, Shine Aviation has taken several safety actions, such as training for late-stage go-arounds, anti-skid training, and updated procedures.
Cirium fleets data shows that VH-TBU is in storage, and will return to service in January 2024.