The pilot who fatally fell from a CASA C212 over North Carolina last month appeared "visibly upset" about a hard landing that had occurred shortly beforehand, US investigtors have disclosed.
He also apologised to his colleague and may have felt sick prior to departing the aircraft on 29 July, according to a 16 August update from the US National Transportation Safety Board (NTSB).
The first officer, who had flown the approach leading to the hard landing, "became visibly upset" about the incident, says the report, citing statements made by the captain, who survived.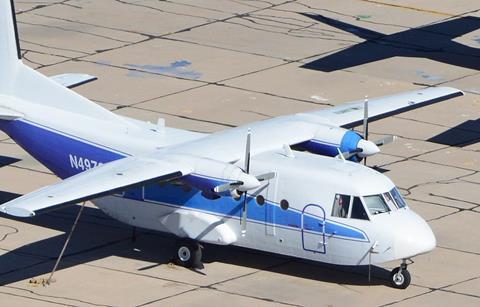 He "lowered the ramp in the back of the airplane, indicating that he felt like he was going to be sick and needed more air", it adds. "The [first officer] then got up from his seat, removed his headset, apologised and departed the airplane via the aft ramp door."
The incident happened during a flight that had been carrying skydivers. After completing two skydiving drops, the two pilots descended toward Raeford West airport in North Carolina, where they planned to land.
Shortly before touching down, the aircraft "dropped," prompting the pilots to initiate a go-around.
"Before the [first officer] could arrest the airplane's sink rate and initiate a climb, the right main landing gear impacted the runway," says the NTSB.
The captain then took the controls and overflew the airport. Airport staff reported finding the aircraft's fractured landing gear on the runway, prompting the crew to declare an emergency and divert to Raleigh-Durham International airport.
While headed to Raleigh, the aircraft experienced "moderate turbulence", and about 20min into the diversion the first officer became upset, the report says. He also "opened his side cockpit window and 'may have gotten sick'".
Shortly after, the first officer lowered the ramp and "departed" the aircraft without a parachute.
The captain turned the aircraft (N497CA) to search for his colleague before making an emergency landing at Raleigh.
During the landing, "the airplane departed the right side of the runway and came to rest upright in the grass". The captain was not injured.