The September 2019 stall and crash of a Convair 440 cargo aircraft near Toledo resulted from oversight by the aircraft's two fatigued pilots.
That is according to the National Transportation Safety Board (NTSB), which on 31 August released its final accident report.
The NTSB attributes the crash to "the flight crew's failure to maintain the proper airspeed on final approach, which resulted in an inadvertent aerodynamic stall and impact with trees and terrain".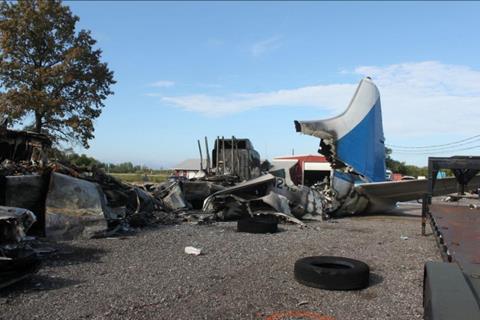 "Contributing to the accident was the flight crew's fatigue due to the overnight flight schedule," adds the report.
The crash at 02:39 local time on 11 September 2019 killed both pilots.
The crew started their trip the previous evening when they departed Laredo International airport in Texas at 18:38 on 10 September, bound for Millington-Memphis airport in Tennessee, where they landed at 22:10.
After refueling, the Convair (registration N24DR) departed Millington at 23:14 for a flight to Eugene F Kranz Toledo Express airport. The pilots began descending several hours later, when about 34nm (63km) southwest of Toledo airport.
At about 02:35, a controller cleared the aircraft for a visual approach to Toledo's Runway 25.
During final approach, the aircraft's airspeed decreased to 70-75kt (130-139km/h) – at or below stall speed, the NSTB says.
"The aircraft became briefly established on final approach before radar contact was lost," it says. "The airplane impacted trees and terrain and came to rest in a trucking company parking lot short of the runway 25 arrival threshold."
The NTSB says the pilots failed to maintain proper airspeed and did not recognise an impending stall.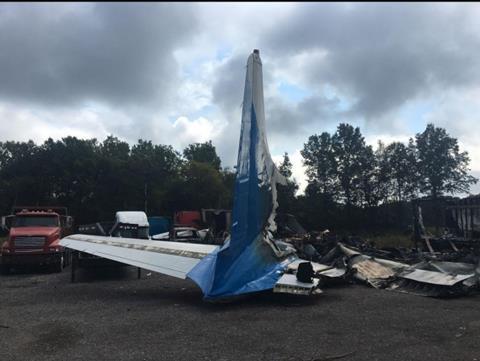 "Their performance was likely impaired by fatigue, resulting from both the total duration of the overnight flights and the approach being conducted in the window of the circadian low," it says.
The Convair 440, powered by twin Pratt & Whitney R2800-52W reciprocating engines, was manufactured in 1957 and had logged a 47,742h of flight.
The NTSB has cited "circadian" factors as contributing to other aviation crashes, including that of a UPS Airbus A300 on 14 August 2013. That aircraft crashed at 04:47 local time after descending too low during approach to Birmingham, Alabama, killing both pilots.
The NTSB attributed the accident largely to the crew. It cited poor communication and said the pilots improperly configured the flight-management computer and decided to continue an unstable approach, in addition to being fatigued.