Investigators in Papua New Guinea are probing a serious inflight pressurisation event involving an Air Niugini Fokker 70.
The aircraft (P2-ANT, MSN11577) was operating a domestic flight from Port Moresby International Airport to Mt Hagen airport on 20 February, according to a preliminary report from the country's Accident Investigation Commission (AIC), which has classified the incident as serious.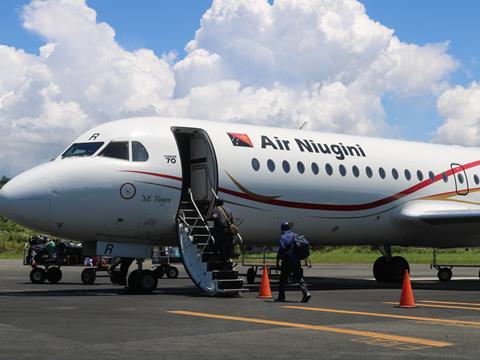 Upon reaching the vicinity of Mt. Hagen, which sits more than 5,300ft above Port Moresby, the crew decided to return to the departure airport owing to inclement weather.
As the crew began their descent to Port Moresby, they noticed that the landing elevation settings had not been set for an arrival, but were at 5,500ft – the setting originally meant for the higher elevation Mt Hagen airport.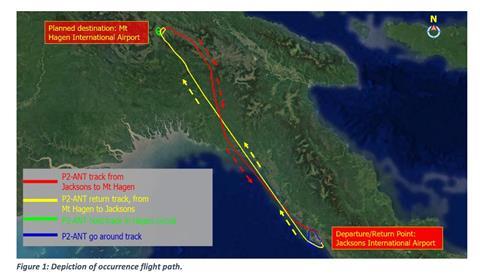 On final approach, the aircraft's cabin pressure differential stood at around 6 PSI, much higher than the 0.13 PSI mandated for landing. The crew then terminated the approach and initiated a go-around, while reducing the cabin pressure differential readings. The aircraft then landed.
According to the AIC, four passengers sustained serious injuries, while another 18 had minor injuries. The four crew members and remaining 45 passengers were uninjured by the incident.
"The investigation is continuing and will include environmental, operational, organisational, and technical aspects and other areas as applicable," states the AIC.
Cirium fleets data shows the Fokker jet to be over 26 years old. It was delivered to KLM Cityhopper in 1996, before entering the Air Niugini fleet in early 2016. The carrier has four Fokker 70s in its fleet, alongside three Fokker 100s, one Boeing 737-800, as well as two 767s.