Investigators have determined that a Boeing F/A-18F Super Hornet of the Royal Australian Air Force (RAAF) ran off the runway at take-off after a cockpit alert distracted the pilot, ultimately triggering a stressed response to the jet's veering to the right.
The incident occurred on the afternoon of 8 December 2020 as the two-seat fighter attempted to take off from runway 33 at RAAF Amberley. Both crew members ejected safely, but damage was sustained to the aircraft.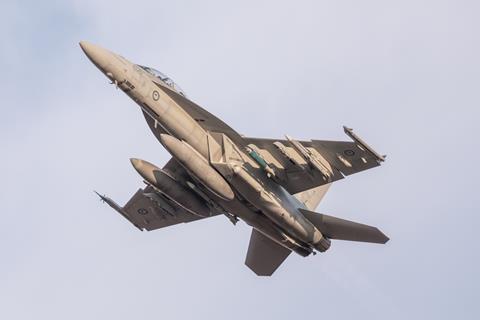 According to a significantly redacted Defence Flight Safety Bureau (DFSB) report seen by FlightGlobal, as the aircraft taxied to the runway the pilot failed to trim the aircraft for take-off.
Subsequently, as the aircraft started its take-off roll with the afterburner engaged, the pilot was distracted by a "Check Trim" alert.
This "distracted the pilot from prioritising focus on directional control", and resulted in the fighter deviating to the right – which went unnoticed for several seconds. Moreover, a crosswind, as well as the asymmetric loading of unspecified stores, helped exacerbate the fighter's tendency to pull to the right.
"Upon noticing the heading deviation, it is likely the pilot suffered an acute stress response followed by a short duration of impaired cognitive performance," says the DFSB.
"During this period, a series of action errors were made in an attempt to correct and maintain directional control of the aircraft.
"Fixating on the task of regaining directional control during a cycle of impaired performance delayed the pilot retarding the throttles back to idle."
As a result, the fighter accelerated to a ground speed of 85kt (157km/h), at which point the right main landing gear exited the runway. The nose wheel then struck a runway edge light, causing the nose-wheel steering system to fail.
The aircraft then departed the runway and briefly left the ground, at which point the weapons system officer in the rear seat initiated the ejection sequence for both crew members. The aircraft, now at idle power, came to rest about 930m (3,050ft) from the point of departure, and 200m off to the right of the runway.
Investigators found that "substandard adherence to checklist actions" before the take-off resulted in the crucial "Check Trim" message.
Following the accident, adds the DFSB, the RAAF's Air Combat Group has taken safety actions around the "primary causal factors that led to the runway excursion".
FlightGlobal understands that the aircraft involved in the accident was A44-223 (MSNAF23). Cirium fleets data indicates that the jet was delivered in October 2011. Following the accident, it was returned to service in February 2022.