US regional carrier Republic Airways has filed for an exemption to pilot aeronautical experience requirements set by the Federal Aviation Administration, in an effort to alleviate the pilot shortage.
The Indianapolis, Indiana-based airline, which flies regional routes for American Airlines, Delta Air Lines and United Airlines, wrote in a 15 April application to the Department of Transportation (DOT) that its rigorous selection process and structured pilot training programme make it comparable to a military pilot education.
Therefore, its pilots would be highly-qualified to earn what's known as a "Restricted Air Transport Pilot" (R-ATP) certificate with about half of the flight time usually required for civilians pilots to begin flying for commercial operators.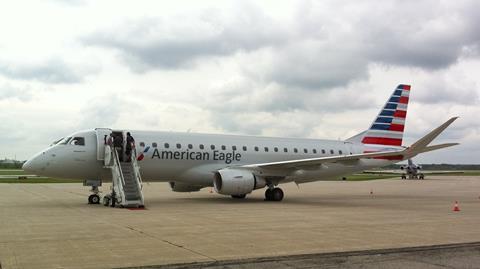 "The requested exemption would allow selected civilian pilots who complete the rigorous Republic R-ATP programme to apply … for an airline transport pilot certificate concurrently with a multi-engine airplane type rating with a minimum of 750 hours of total flight time as a pilot," Republic writes.
Military pilots aiming for a commercial aviation career only need 750h of total flight time to qualify for an airline job. Most other candidates require 1,500h.
Collecting those hours is expensive and time consuming, creating a bottleneck in availability of new pilots that is not easily solved, say critics.
Republic says in its application that once students are accepted into its programme they follow a "highly structured training curriculum where they train as a full-time employee".
"Within the programme, students will complete courses in advanced airline academics, complete command experience, receive a Republic mentor and complete supplemental advanced aviation training to help them better prepare for a career as an airline pilot," the filing says. "To uphold the rigour of the training, students will be assessed and are required to pass multiple knowledge and skill validation gates throughout the programme life cycle. Failure to pass any gate will result in the student to be transitioned out of the Republic R-ATP Program and continue through the standard ATP pathway."
The programme, to be carried out at Republic's own flight school, Leadership In Flight Training (LIFT) Academy, "is designed to meet or exceed the safety of the military R-ATP. In addition, this programme will support aspiring aviators from underserved communities and diverse backgrounds to pursue careers in aviation," Republic writes.
Republic Airways, which operates a fleet of 200 Embraer 170s and E175s and offers scheduled passenger service with nearly 1,000 daily flights to 100 cities in 40 US states, did not immediately respond to a request for information about the proposal.
1,500H RULE
The so-called 1,500-hour rule, introduced more than a decade ago following a fatal airline crash that was attributed in part to the pilots' lack of aeronautical experience, garnered a great deal of controversy in recent months as the US faces a historic pilot shortage exacerbated by the two-year coronavirus crisis.
No other country has a similar aeronautical experience rule.
The dearth of flight-deck crew came into stark relief for many carriers after the Covid-19-driven industry downturn, when thousands of senior pilots took extended leaves or left the industry completely.
Early in the pandemic, there was no telling how long the crisis and associated travel restrictions would last, and what the ultimate damage to the industry would be. So airlines rapidly shrunk their fleets and curtailed staff levels in an effort to salvage cash.
Those decisions are now coming back to haunt them.
Numerous airline executives have complained about the pilot shortage, and their operations have suffered as a result.
Jonathan Ornstein, chief executive of Mesa Airlines, is among the loudest critics of the 1,500h-rule. On 9 May, he called it an "ill-conceived, ill-advised and politically motivated" rule "that by most independent accounts [has] nothing to do with the enhancement of safety".
United's CEO Scott Kirby said his carrier had to strike numerous routes from its schedule and ground 100 aircraft because it is unable to staff flights adequately.
Another carrier, SkyWest Airlines, the USA's largest regional operator with more than 500 aircraft flying for four major carriers, said earlier this year that it it expects to fly fewer block hours in 2022 because of what it calls the "pilot imbalance". That trend will likely stretch into 2023, it has said.
SkyWest also recently informed the DOT that it intends to give up 29 Essential Air Service (EAS) routes, which it can no longer accommodate due to a lack of qualified pilots. SkyWest executives said they had planned for attrition, just not this much.
The pilot shortage is hitting regional carriers like SkyWest, Republic and Mesa particularly acutely, as these airlines tend to pay lower salaries than major carriers, and operate smaller aircraft on shorter routes. Many professional pilots begin their careers at a regional carrier but then transfer to a legacy airline.
Meantime, the FAA and airline pilot unions have pushed back against modifying the aeronautical experience rules.
They maintain that the 1,500h experience requirement serves a useful purpose, even if there are no rules around which kind of aircraft those hours must be completed in.
Most commercial airline pilot candidates log their 1,500h in a single-engine piston aircraft, as a flight instructor, for example, rather than a more complex jet or simulator that is more comparable to aircraft they are likely to fly for the rest of their careers.