A former Russian intelligence officer convicted of downing a Malaysia Airlines commercial flight in 2014 has reportedly been arrested in Moscow, but apparently not for his role in killing 298 air travellers.
Igor Girkin, a one-time operative of Moscow's Federal Security Service (FSB), was detained by Russian authorities on 21 July, according to statements made on the social media platform Telegram by Girkin's wife.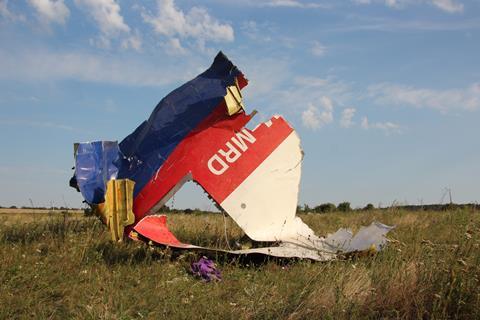 "They took my husband by the arms and took him away in an unknown direction," Miroslava Reginskaya says in a 21 July Russian-language post on Girkin's Telegram channel, which he runs under the pseudonym Igor Strelkov.
Girkin was one of three men convicted by a Dutch court in 2022 for their involvement in the destruction of Malaysia Airlines flight MH17 in 2014, which killed all 283 passengers of 15 crew aboard.
The Boeing 777 was travelling from Amsterdam to Kuala Lumpur when it was struck by a surface-to-air missile over the Eastern Ukraine region of Donetsk, where Moscow-backed separatists were engaged in combat against government forces from Kyiv, according to investigators. Russia has denied its involvement.
The commercial flight is believed to have been targeted in the mistaken belief that it was a Ukrainian military aircraft.
Prosecutors said the Buk missile system that destroyed MH17 came from a military base inside Russia. The court ruled that Girkin, who was acting as a battlefield commander for the forces of the self-styled Donetsk People's Republic, bore "final responsibility for deployment of military resources in and for the DPR".
"Because of his role, [Girkin] is held to be responsible for causing the crash of Flight MH17 and the murders of the 298 persons on board," the verdict said.
Girkin and his two compatriots, who transported the missile system from Russia, were sentenced in abstention and never detained. The Russian military was accused by the Dutch government of attempting to disrupt the court investigation through cyber hacking operations.
However, the former Russian operative has become a prominent critic of the Moscow's war in Ukraine. The US Department of the Treasury has sanctioned Girkin and confirms his aliases include Igor Strelkov.
As recently as 18 July, Girkin lobbed criticism directly at President Vladimir Putin, calling him a "non-entity who managed to throw dust in the eyes of significant part of the population", in a Telegram post.
"The country will not be able to withstand another six years in power of this cowardly mediocrity," Girkin added, before calling on Putin to step down.
Such remarks, not Girkin's alleged role in the deaths of nearly 300 airline passengers and crew, may be the reason for his arrest on 21 July, which is confirmed by Russian state news agency RIA Novosti.
In a post published at 17:20 Moscow time, RIA says Girkin is accused of "committing calls for extremism on the web" and faces five years in prison.
A judge in the case allowed media into the courtroom to document the arraignment, a practice the Kremlin often condones when its political opponents face criminal scrutiny.