Singapore safety authorities believe that the rising incidence of more intense storms will create challenges for pilots, and potentially a necessity for improved safety margins.
In its final report into a Singapore Airlines Boeing 777-300ER (9V-SWH) that landed low on fuel in 2022, Singapore's Transport Safety Investigation Bureau (TSIB) warns of a more dynamic weather environment in the future.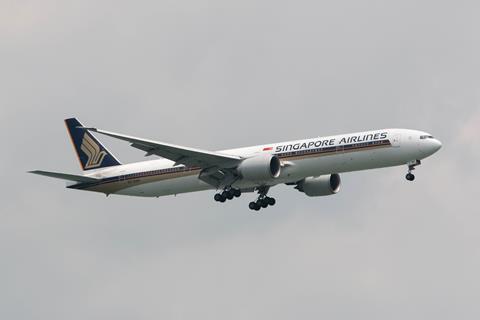 The 25 October 2022 incident saw the twinjet hold for an extended period over Singapore's Changi airport before the crew eventually opted to divert to Batam airport in Indonesia.
By that point, however, Batam was also suffering poor weather – and the aircraft was low on fuel, resulting in the declaration of an emergency.
The TSIB report suggests that such weather events could become more commonplace, and that pilots will need to plan accordingly.
"Recent studies identified that one of the effects of climate change is more intense and more frequent storms in many regions exacerbated by extreme rainfall and flooding," says the TSIB.
"This may likely result in pilots operating into areas where the weather conditions exceed the limits to conduct a safe landing or results in loss of capacity of an airport that may impact the regional airspace system."
The report says that the crew appeared to prefer landing at Changi, delaying their decision to divert.
By the time the aircraft started three ultimately futile attempts to land at Batam, the Indonesian airport itself was experiencing challenging conditions.
"The effects of climate change are also expected to make the operating environment for pilots more unpredictable," says the TSIB.
"The events in this occurrence suggest that it may be prudent for pilots to interpret operating procedures in a more conservative manner to conclude that landing at a scheduled destination is not assured if the air traffic controllers are not able to provide definitive updates.
"This will allow pilots to make an earlier decision to divert, with higher safety margins, especially when weather conditions are favourable, to increase the chances of conducting a safe landing at the diversion aerodrome."