Aircraft emergencies impose challenging, unpredictable conditions on cabin crew, highlighting the importance of training, particularly when dealing with multiple issues simultaneously.
Southwest Airlines and Emirates have given insights into issues that confronted crews in two entirely different – but equally dramatic – accidents, an uncontained engine failure aboard a Southwest Boeing 737-700, and the gear-up landing of an Emirates 777-300 during a failed go-around.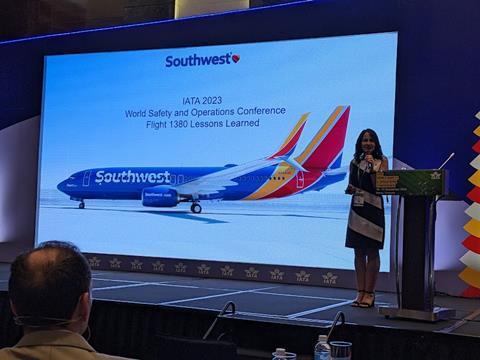 The carriers shared their experiences at the IATA World Safety and Operations Conference in Hanoi, Vietnam.
On 17 April 2018, Southwest flight 1380, a Boeing 737-700, suffered an uncontained failure in its left-side CFM56 engine after taking off from New York LaGuardia on a flight to Dallas Love Field. The explosion blew open a window on the left side of the aircraft, causing one passenger to be sucked partially out of the jet, resulting in the flight's only fatality.
Elise May, Southwest's senior program manager for in-flight safety and regulatory compliance, says the cabin crew, who had very limited contact with the cockpit during the emergency, performed "exceptionally well".
Challenges included structural damage to the aircraft, difficulty communicating in the cabin, an "acute emergency", a loss of cabin seating owing to the blown-out window, and time pressure.
Given the compressed timeline of the accident, the flight attendants were unable to reach their jumpseats for landing. All three were sitting on the floor for landing, along with one passenger. There was no flight attendant at the front door during the landing.
Following the event several training opportunities emerged, specifically around the importance of flight attendants being in their jumpseats for landing. If there are insufficient seats for passengers, four can be squeezed into a three-person bank of seats, with a seatbelt extender used if required.
The event highlighted the need for training around multiple emergencies occurring at once, as well as training about rapid decompressions.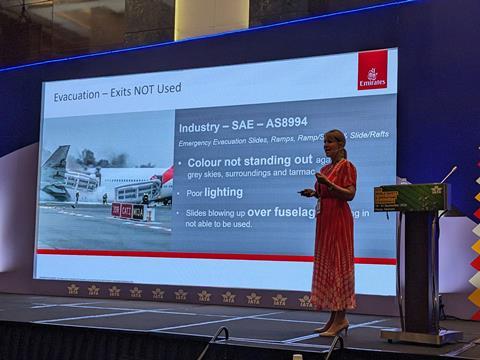 On 3 August 2016, Emirates flight EK521, a 777-300, crashed while conducting a failed go-around at Dubai after operating from Thiruvananthapuram, India. While none of the 282 passengers or 18 crew was killed, there were 32 injuries, four of them serious. A firefighter responding to the accident also lost his life.
Anabel Brough, safety manager at the Emirates cabin group, described a high-pressure situation in the cabin. Visibility was very poor owing to smoke, compounded by a lack of light: window shades were jarred downwards when the aircraft impacted the runway.
Visibility was also a problem outside the aircraft, owing to grey, windy conditions. Strong winds also rendered several slides inoperable.
Brough described a difficult evacuation, with 69% evacuating on the same side as the fire, including most of the aircraft crew. Also, 86% of occupants evacuated from just three of the 777's exits.
Many passengers took, or attempted to take, their bags during the evacuation. While passengers are ordered to leave their bags in an emergency, Brough says that the personal circumstances of some passengers may preclude leaving a bag behind. For example, passengers who had difficulty getting a passport or certain visas, or who are carrying valuable documents, will be loath to abandon their belongings.
She states that operators need to prepare for this contingency, and have a strategy in place to help reduce risks involved with passengers trying to bring cabin baggage during an evacuation.