The crash of Sriwijaya Air flight SJ182 follows a troubled safety record at the airline, which has lost five Boeing 737s since 2008, amid broader corporate troubles.
While only the official investigation will reveal what caused the 737-500 (PK-CLC) to plunge into the Java sea four minutes after taking off from Jakarta, killing 62 passengers and crew, it is clear that Sriwijaya has had safety challenges over the years.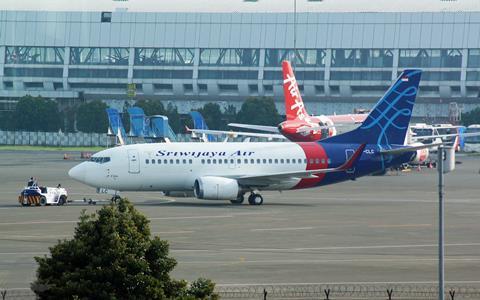 Prior to the most recent incident, the carrier wrote off 737s in 2008, 2011, 2012, and 2017, according to Cirium fleets data. Unlike SJ182, the other four losses occurred during landing.
Only one of the accidents, in August 2008, resulted in the loss of life, with one person killed and 14 injured. During this accident a Sriwijaya 737-200 (PK-CJG) suffered an overrun on a wet runway when landing at Jambi. The only death was a farmer on the ground.
An investigation revealed that the aircraft had suffered a hydraulic failure, but the crew conducted the landing without fully considering the technical ramifications, particularly for the aircraft's brakes, spoilers, and thrust reversers.
The December 2011 loss involved a 737-300 (PK-CKM) that overran another wet runway, this time at Yogyakarta. The aircraft landed at high speed, failed to stop on the runway, and its undercarriage collapsed when it came to rest on soft ground. The overrun followed an unstable approach in which no checklists were used. Pilot fatigue was also deemed to be a factor in this accident.
Half a year later, in June 2012, a Sriwijaya 737-400 (PK-CJV) lost directional control shortly after landing in heavy rain at Pontianak. The aircraft veered onto soft ground, causing the nose undercarriage to collapse. The aircraft also suffered damage during recovery.
In May 2017 a 737-300 (PK-CJC) made a runway overrun in stormy conditions while landing at Manokwari after a service from Sorong.
Prior to SJ182 crash, the average age of the four lost 737s was 22.4 years, which could have contributed to the decision not to repair the aircraft for a return to service.
The carrier is listed as having 10 aircraft in service, all 737s, and 17 in storage. It also has an order for a pair of 737 Max 9s. Its sister carrier Nam Air has 11 737-500s, of which six are in service and five in storage, as well as five ATR 72-600s, of which three are in service and two in storage.
In early 2020 Indonesian media reports indicated that a half of Sriwijaya's fleet was grounded owing to a lack of spare parts.
Apart from safety issues, the carrier has had a challenging time in the cutthroat world of Indonesia's airline industry. During the late 2010s it was a victim of the price war waged between Indonesia's two dominant carriers, Garuda Indonesia and Lion Air. One observer says that the airline's "lack of scale" is a major handicap.
In 2018 Sriwijaya was on the verge of collapse, but in November 2018 it formed a deal whereby Garuda low-cost unit Citilink would manage its operations and finances. One objective of the effort was to look at ways to reduce Sriwijaya's debt owed to Garuda. This deal fell apart in late 2019, however, over disagreements about the composition of Sriwijaya's management team.
Months after the Garuda deal fell through, Indonesia's air transport sector was hammered by the coronavirus pandemic.