Indonesian officials have officially halted search and rescue efforts to locate more victims of the Sriwijaya Air crash, but are continuing their hunt for the Boeing 737-500's cockpit-voice recorder (CVR).
The latest update — issued by Indonesian transport minister Budi Karya Sumadi — comes nearly two weeks since the Sriwijaya jet (registered PK-CLC) crashed into the Java Sea minutes after taking off from Jakarta.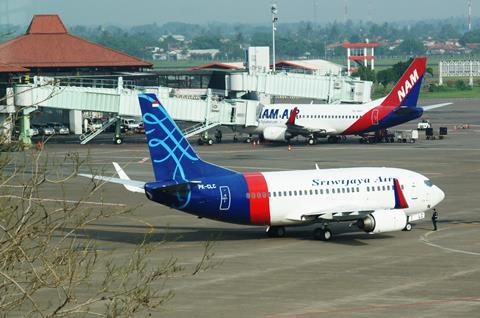 The aircraft, operating flight SJ182, was carrying 62 passengers and crew members when it plunged into the sea on 9 January.
The 737's flight-data recorder was retrieved on 12 January. Three days later, officials found the casing of the cockpit-voice recorder.
To date, more than 325 body parts of victims, along with 55 large fuselage pieces and 68 bags of smaller debris, have been recovered from the crash site.
Indonesia's National Transport Safety Committee (NTSC), which is leading investigations into the crash, says it will continue in its efforts to locate the stricken aircraft's CVR, which will be crucial in piecing together what led to the crash.
The NTSC has successfully downloaded data from the aircraft's flight-data recorder, which was recovered last week, and is expected to release a preliminary investigation report into the incident by early February.
Investigators have disclosed that the aircraft, a former Continental Airlines jet, had been heading in an unexpected direction following take-off from Jakarta to Pontianak, and that it had been intact before crashing into the sea.