Indonesia is placing a greater emphasis on upset prevention and recovery training (UPRT) following the 2021 fatal crash of a Sriwijaya Boeing 737-500 into the Java Sea.
In its interim report into the 9 January 2021 disaster, which killed 62 passengers and crew, Indonesia's National Transport Safety Committee (NTSC) outlines the progress of the investigation, as well as safety measures already taken by various parties.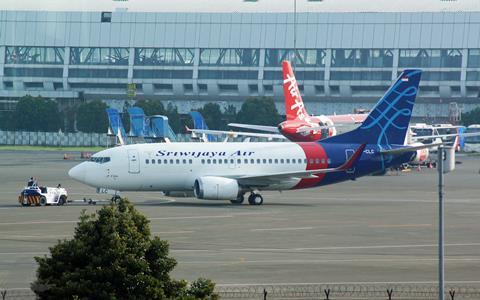 "Responding to this safety recommendation, the DGCA (Directorate General of Civil Aviation) had accelerated the UPRT program by assigning a special task force to implement the UPRT on 25 June 2021," says NTSC.
The task force has already completed several actions focused on improving regulations and training around UPRT in Indonesia, and how to successfully implement it.
In February 2021, Boeing issued bulletins pertaining to "Airplane Upset Prevention and Recovery, and followed up in February with a multi-operator message about the "Potential for Latent Flap Indication System Wiring Failure and Impacts to the Autothrottle System," which was followed by a Federal Aviation Administration Airworthiness Directive.
The NTSC also lists 16 measures taken by Sriwijaya, mainly focused on maintenance and aircrew procedures and training.
KEY ELEMENTS IN SJ182 INVESTIGATION
Successful recovery and download of cockpit voice recorder (CVR) data
Test of (badly damaged) Enhanced Ground Proximity Warning System
Aircraft Simulation based on CVR and Flight Data Recorder data
Test of an Autothrottle Computer previously installed on the aircraft
Test of Autothrottle Servo removed prior to the crash
Test of previously installed Flight Control Computer that was removed prior to the crash
Spoiler Angle Examination

"The investigation developed an on-aircraft test to correlate the flight spoiler surface position to the flight spoiler position signal that is received by the autothrottle computer," says NTSC. "The test utilised a Boeing 737-400 aircraft of an operator in the UK."
The accident involved aircraft PK-CLC (MSN 27323) operating flight SJ182 on the Jakarta-Pontianak route. After departing runway 25R at 14:36 local time, the aircraft was cleared to climb to 29,000ft.
"When the aircraft climbed through an altitude of about 8,150ft, the left engine thrust lever started reducing, while the right engine thrust lever remained," says the NTSC interim report.
"About 10,600 feet, the aircraft heading started turning to the left. About 10,900 feet, the aircraft reached a left bank angle of more than 45°and the autopilot disengaged. At the same time, the Enhanced Ground Proximity Warning System (EGPWS) "bank angle" alert was activated, and the aircraft started to descend."
At 14:40 radar contact was lost with the aircraft.
The NTSC's findings and analysis will be contained in its final report into the crash.