Unnamed supporters of US start-up "public charter" airline JSX have launched a campaign advocating against an effort in Washington to modify rules allowing its operation.
Called "Keep JSX Flying", the online campaign seeks to shore up public support for JSX after the Federal Aviation Administration said in August it was considering rule changes.
Two major airlines and pilot and flight attendant unions have been urging regulators to close a "loophole" they allege allows public charters to skirt strict aviation safety regulations. But other major US airlines have partnered with JSX.
JSX has called such pressure a "brazen attempt to regulate JSX out of business", saying the public-charter model enables carriers to serve smaller communities.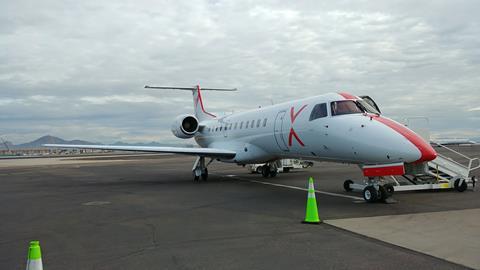 Regulated under US Part 380 rules, public charter airlines offer "on demand" flights using aircraft with 30 or fewer passenger seats. The rules allow companies to contract for the operation of aircraft on specific routes, and to sell seats on those flights, according to the US Department of Transportation.
It is unclear who is behind the campaign supporting JSX. The airline did not respond to several requests for comment but in recent days posted several positive responses about the campaign on X, the social media site previously called Twitter.
"Two huge US airlines and their labour unions want companies like JSX – small air carriers that actually care about providing you with much-needed choice and high-quality service – to be legislated out of existence," the website says in its call to action, posted on 3 October.
American Airlines and Southwest Airlines, both based in or near Dallas, have urged regulators to make rule changes that would disallow JSX's type of operation. JSX is also based in Dallas and has a substantial operation from Dallas Love Field.
United Airlines and JetBlue Airways, however, have frequent-flier partnerships with JSX, according to the airlines' websites. United is also an investor.
"They're using unsubstantiated allegations about aviation safety to push for our shutdown out of greed," the online campaign says. "The Federal Aviation Administration has a public docket open for your input to safeguard our right to operate. Unlike us, these airlines would rather win through political influence than compete fairly."
"If these airlines and labour groups succeed, JSX will be forced out of business."
Targeted at affluent markets, JSX operates point-to-point routes mostly in the South and Southwest US. According to Cirium fleets data, it operates 46 Embraer ERJ-135s and -145s, all with 30 seats.
Controversy about public-charter airlines rose after regional carrier SkyWest Airlines announced plans to establish a charter operation in April, similar to what JSX has been doing for years. Pilots of public charter flights need not meet the 1,500h flight-time rule required for pilots working at typical airlines. Opponents of the 1,500h rule have called it a prime contributor to the pilot shortage.
On 24 August, the FAA said in a draft notice: "In recent years, scheduled public charter flights operating under Part 380 have expanded in frequency and complexity. This rapid growth poses an increased risk to safety if left unchecked."
SkyWest Charter says Part 380 flights are "essential for small community air service". Numerous smaller communities have seen reduced air service in recent years, with some cities losing all flights.
SkyWest said in August that its charter operation "already exceeds current safety requirements and will transition to any additional requirements that may be adopted by the FAA".
The FAA's notice says public-charter airlines appear to offer services "essentially indistinguishable from flights conducted by air carriers".
Unions, including heavyweight Air Line Pilots Association, International (ALPA), have loudly opposed such operations, saying public charters are "exploiting [a] loophole" in the regulations.
The rules allow "charter flights to run so frequently that enterprising carriers can market them as scheduled service, but be free from the Part 121 safety regime that governs most scheduled flights". That includes allowing passengers and luggage to bypass traditional security screenings.
"Part 121" governs most scheduled commercial US flights.
ALPA says captains and first officers at charter companies "do not have to meet the same strong standards that we hold pilots to in Part 121 operations".
Marketing itself as a "hop-on jet service", JSX sells tickets at prices that are typically less than typical first-class airline tickets.
It has denied that a regulatory loophole exists and said it fully complies with safety regulations. The carrier says its pilots have thousands of hours of experience and that its security is regulated by the Transportation Security Administration and includes weapons and explosives detection.