Tamarack Aerospace has challenged the conclusion of the US National Transportation Safety Board (NTSB) that the failure of one of the company's aftermarket winglets caused the deadly 2018 crash of a Cessna Citation 525A jet.
Idaho-based Tamarack insists its Atlas active winglet system "did not malfunction and did not cause the accident", according to its 3 January petition to the NTSB.
In an investigation report released in November last year, the NTSB attributed the accident, which killed three people, to "asymmetric" deployment of the left winglet, which had erroneously deployed "full-trailing-edge up".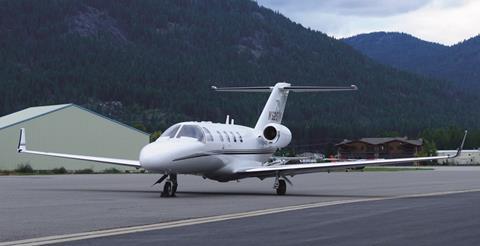 "The NTSB has made erroneous findings that are unsupported by the factual record, inconsistent with engineering principles or proven to be physically impossible," Tamarack's petition says.
It alleges that the NTSB did not analyse or consider "significant factual information". Tamarack's Atlas – or active technology load alleviation system – winglets deploy automatically, alleviating loads and countering turbulence, according to the company.
The NTSB did not immediately respond to a request for comment.
The accident happened on 30 November 2018. Shortly after departure from Jeffersonville, Indiana, the Cessna 525A (N525EG) began rolling left. The autopilot disconnected and the aircraft descended, crashing less than 3min after take-off.
Investigators identified damage to the left winglet that suggested it was deployed at the time of impact.
The NTSB said the crash resulted from "asymmetric deployment of the left wing load alleviation system for undetermined reasons."
Tamarack's petition focuses partly on the Cessna's autopilot, which the company says disconnected for undetermined reasons, but not due to any factor involving the winglets.
Also, Tamarack says the crash itself – not a malfunction – caused the damage to the winglet cited by the NTSB.
Tamarack's petition asks the NTSB to re-evaluate its conclusions and "make appropriate modifications to its final report". The company also requests a meeting with the NTSB.
"The errors and gaps in the factual record are so fundamental that the NTSB must reconsider and modify its determination of probable cause of the accident," Tamarack says.
The Federal Aviation Administration in May 2019 grounded all Cessnas with the Atlas system, pending modifications. The FAA lifted the grounding in July 2019 for modified aircraft.
Five other "uncommanded roll events" involving Cessnas with Atlas winglets had been reported to US and European officials, though none caused injuries or aircraft damage, the NTSB said.
Following the crash, Tamarack issued a service bulletin saying "aerodynamic overbalance" could allow the Atlas system to remain deployed even without power. The bulletin called for operators to attach to the system "centring strips" that rely on aerodynamic force to help address the issue.
The crashed Cessna did not have the centring strips.
Tamarack entered court-supervised bankruptcy protection in June 2019, emerging last year.