The disappearance of a Tara Air turboprop could become the third fatal crash involving the Nepalese carrier since 2010.
Search-and-rescue teams from the army located the wreckage of the Viking Air DHC-6-300 (9N-AET/MSN) Twin Otter on 30 May, a day after it disappeared while operating the Jomson-Pokhara route.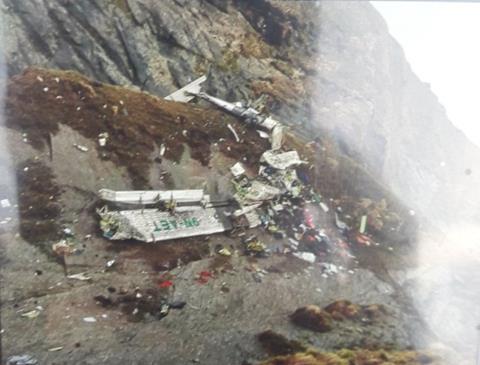 After last making contact with Jomson Airport at 10:07am local time, contact was lost with the aircraft, which was carrying 22 passengers and three crew aboard. Bad weather forced helicopters to abandon the search on 29 May, says the airline, but they will resume search operations when the weather clears.
According to Cirium fleets data, the last fatal loss involving Tara Air occurred on 24 February 2016 when another Twin Otter (9N-ANH/MSN926) crashed while operating the Pokhara-Jansom route, killing 20 passengers and three crew.
Contact was lost 10 minutes after take-off. It was found that the aircraft crashed into high ground near Rupse Chhahari.
Owing to cloud cover in the valley typically used to fly between the two locations, the crew elected an alternate routing. Cloud was also encountered on this route, so they ascended to 12,000ft, but they still remained in the clouds.
The crew subsequently descended, still in the clouds, with the ground proximity warning system sounding for about a minute. Reports suggest that the captain told the co-pilot "not to worry" about the warning. Shortly thereafter the aircraft impacted the terrain at an elevation of 10,700ft.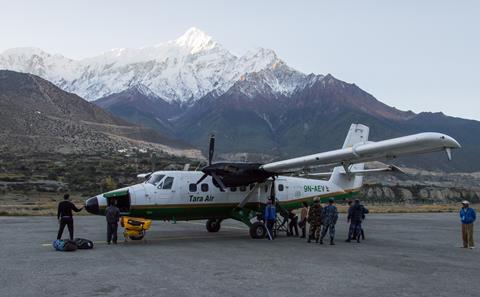 Prior to the 2016 crash, Tara Air suffered another fatal Twin Otter (9N-AFX/MSN806) crash on 15 December 2010, resulting in the loss of 19 passengers and three crew.
This accident saw the aircraft crash into Mt. Palunge while operating the Lamidanda-Kathmandu route.
Apart from the 29 May disappearance of 9N-AET and the two other fatal crashes, Tara Air has suffered two other significant accidents in recent years, although neither reportedly resulted in fatalities or injuries.
In June 2011 it lost a Dornier 228 (9N-AGQ/MSN8107) that exited the runway onto rough ground after operating a cargo service from Nepalgunj to Simikot. The aircraft was deemed a total loss.
In June 2018, another Tara Air Twin Otter (9N-AEV/MSN72) suffered substantial damage in a bad landing at Jumla, which saw the aircraft veer off the runway and cause its landing gear to collapse. The aircraft returned to service in December 2018.
Cirium fleets data indicates that Tara Air has six in-service aircraft, comprising two DHC-6-300s (including 9N-AET), two DH-6-400s, and two Dornier 228s. It also has orders for three more DHC-6-400s.
Cirium data suggests that 176 passengers and crew have been killed in Nepal air safety incidents – involving both fixed-wing aircraft and helicopters - since 2010. All Nepalese carriers are blacklisted by the European commission.