A Thai Airways A330-300 has nearly ripped the tail off a Gulfstream IV private jet during a taxiing accident in Vientiane, Laos.
The accident occurred in darkness on 9 March as the A330 (HS-TEU) prepared to operate flight TG575 on the Vientiane-Bangkok Suvarnabhumi route, according to Thai Airways.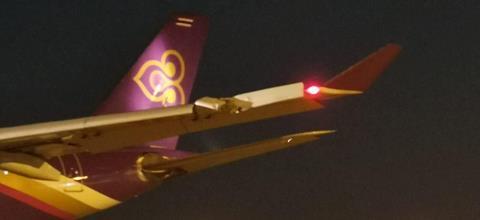 "When the pilot took the plane out to the taxiway, its wing collided with the tail of a small personal plane."
Images on social media show that the outboard leading edge of the A330's left wing suffered damage.
As for the private jet, M-YWAY, the entire tail plane was nearly torn off, coming to rest on the right-side horizontal stabilizer. The front landing gear also appears to have been severely twisted in its mounting.
The Thai aircraft was carrying 79 passengers and 13 crew, all of whom are safe, says the airline.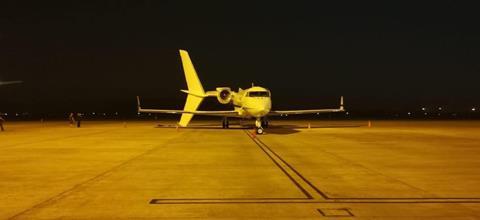 Cirium fleets data indicates that HS-TEU is managed by Thai and was delivered in March 2010, though it only entered service in June 2011.
The private jet, M-YWAY, is managed and operated by Blue Sky Leasing of the Cayman Islands. It entered service in 2002 for Philip Morris, and was obtained by Blue Sky in 2010.