Indonesian investigators will focus their attention on the autothrottle system of a Sriwijaya Air Boeing 737-500 that crashed into the sea minutes after taking off from Jakarta, after revealing a thrust-lever asymmetry developed during the flight.
Preliminary investigations into the crash, which killed 62 passengers and crew, revealed that the 737's autothrottle was found to be unserviceable on two occasions just days before the crash on 9 January.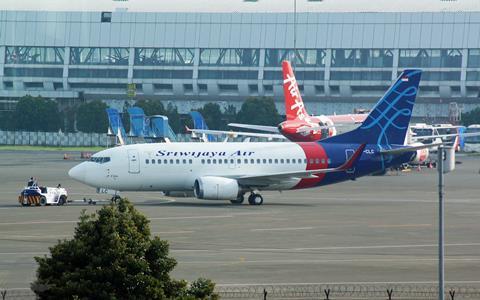 Indonesia's National Transport Safety Committee (NTSC) notes that on 3 and 4 January, the system was reported to be faulty, but was rectified immediately.
After 5 January, there was no record of the faulty autothrottle system, or other defective aircraft parts, in the aircraft's maintenance log.
Outlining the aircraft's final moments before it crashed into the Java Sea, NTSC investigators noted that when the aircraft climbed to 8,150ft, the left thrust lever returned to idle while the right engine's thrust lever remained in position. This asymmetry has yet to be explained.
Flight data indicates that the autopilot disengaged just as the aircraft passed 10,900ft. The aircraft rolled to its left thereafter, with the left engine thrust lever continuing to decrease.
A few seconds later, the autothrottle system disengaged and the aircraft pitched down. Flight recorders ceased recording about 20s later.
Aside from the autothrottle faults, investigators also found that the first officer's airspeed indicator was found to be faulty on 25 December 2020. The malfunctioning indicator was subsequently replaced on 4 January.
The aircraft, registered PK-CLC, was operating flight SJ182 bound for Pontianak. Search and rescue efforts recovered the stricken aircraft's flight-data recorder, but not its cockpit-voice recorder.
"Investigation is ongoing and focuses on, but is not limited to, [the aircraft] autothrottle system and related components, including its maintenance, [as well as] human and organisational factors," says the NTSC.
At a 3 February parliamentary commission hearing on the investigation progress, NTSC officials disclosed that the aircraft "began to slowly turn left until it finally dived down and hit the sea surface". It added that findings on the aircraft's engines were consistent with the engines' still being on before the aircraft hit the water.
Indonesian officials previously said that the aircraft, which formerly flew for Continental Airlines, was certified airworthy after nine months in storage.