Engine problems are the initial focus of an investigation into the ditching off the coast of Honolulu of a Boeing 737-200 freighter shortly after departure on 2 July.
The 737, powered by twin Pratt & Whitney JT8D engines was operated by Hawaiian cargo and charter specialist Transair.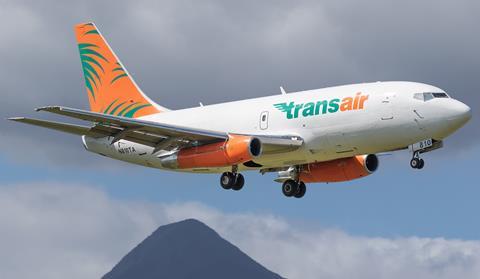 "Transair flight 810, a Boeing 737 cargo aircraft with two people aboard, made an emergency landing in the ocean off the coast of Honolulu, Hawaii, around 1:30am local time on Friday," the US Federal Aviation Administration (FAA) says.
"The pilots had reported engine trouble and were attempting to return to Honolulu when they were forced to land the aircraft in the water. According to preliminary information, the US Coast Guard rescued both crew members."
The FAA adds that it will be investigating the crash along with the National Transportation Safety Board (NTSB).
Neither the NTSB nor Transair immediately responded to requests for comment or provided further information.
According to its website, Honolulu-headquartered Transair was founded in 1982 and provides air cargo services throughout the state of Hawaii. It operates a fleet of five 737-200 freighters and five Bombardier SD3-60-300s.
Flight tracking website Flightaware.com shows that the aircraft was bound for Kahului, on the island of Maui. That flight was scheduled to take just over 30min. The aircraft's flight track shows it circling to the right immediately after departing Honolulu, before ending in the water near the shoreline.
Accirding to Cirium fleets data, the aircraft was owned by Rhoades Aviation and entered service in 1975.