UK air traffic manager NATS is pressing ahead with plans to reorganise the country's airspace to reduce congestion and improve capacity.
During an Aviation Club webinar on 14 January, NATS chief executive Martin Rolfe explained that the organisation's key focus was on reforming network-level airspace, in particular the UK's congested lower level airspace, in order to reduce delays and aircraft holding.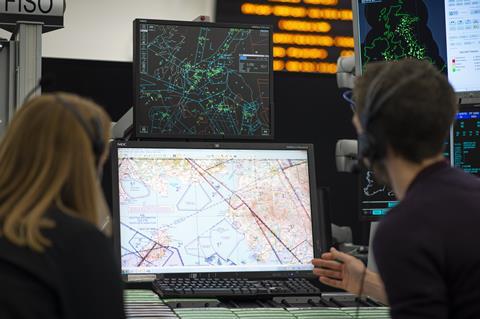 This will involve making changes to the organisation of upper-level airspace, which "means we can allow pilots to plan their own routes and constrain them when we absolutely have to, and that's good from an efficiency perspective and a fuel and CO2 perspective". He foresees reduced intervention between air traffic controllers and pilots.
Changes will arrive first in the form of NATS programmes for high-level free-route airspace, and then its systemised lower-level network changes. "In due course this will deliver the best balance between environmental efficiency and capacity – and by capacity, what I mean is minimising air traffic delays to the passengers," says Rolfe.
NATS is also looking to build on progress it has made in reducing congestion in other areas.
A co-operation agreement with Aireon allows the use of space-based data to track aircraft wherever they are regardless of ground-based radar availability. Although the technology to run the system is more expensive than the previous system of radio-based location reporting, it allows for efficiencies of route management, as well as safety gains.
The arrival of digital control towers, meanwhile, "is now an operational reality at airports around the world", notes Rolfe. London City is set to become the first UK airport to operate a digital control tower when its operations move to the NATS centre in Swanwick in the coming months.
NATS has also developed arrival-manager tools that track aircraft's sequences from 300 miles out to arrival, and Rolfe is hopeful that this range can be expanded to 500 miles out by 2025, "massively" reducing the need for low-level holding.
Similarly, NATS work on time-based separation for aircraft take-offs has brought a halving in delays caused by strong winds.
The use of such technologies and further efficiencies means the "dawn of a new era for air traffic management", asserts Rolfe.