As the coronavirus pandemic drags on, air passengers have become accustomed to social distancing rules and other safety measures, but industry experts say uncoordinated government responses continue to prevent the industry from meaningful recovery.
A panel of aviation experts on 29 July called on governments to better collaborate responses to the global health crisis, especially regarding ever-shifting quarantine requirements, or risk that customers will stay away from air travel for an extended time.
"Every day something changes," JetBlue chief operating officer Joanna Geraghty says during the discussion. "It is incredibly challenging and complicated for customers who don't live in this space."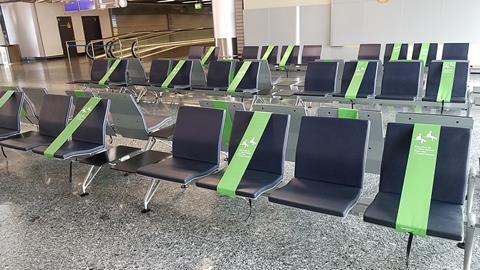 Five months into the pandemic, most people who embark on an air journey know airlines have introduced measures to protect crews and customers. They have implemented enhanced cleaning protocols, reduced on-board service, increased touchless processes and now require face coverings and social distancing, both on aircraft and in airports.
Some carriers conduct health screenings, and ask passengers to fill out assessments prior to boarding. Some continue blocking middle seats and capping load factors.
But that is only the beginning of any journey. At the moment, travellers face more ambiguity when they reach their destinations, experts say. In many regions, a bewildering patchwork of requirements, including 14-day quarantines for new arrivals, await.
"Where the uncertainty lies is, what happens when I arrive? Do I need to take a test? What happens if I test positive? Will I have to quarantine in a hotel for 14 days? That piece has not been well communicated because there's not a coordinated approach," Geraghty says. "We have to nail that down, and once we nail that down, it will begin to restore confidence in the travelling public."
Peter Cerda, IATA's regional vice-president for the Americas, says lack of government coordination has been disastrous for the industry, creating chaos amongst globally networked companies and individuals who are unsure where they can travel freely.
"They are not experts, and when you have differing types of procedures in place, you don't have governments speaking to each other, you are going to cause a lot of confusion," he says.
"Collaboration is fundamentally important. The vast majority of the globe has either country restrictions or border closures," he says. "States are using different procedures that confuse passengers."
For example, Canada has a nationwide 14-day quarantine requirement for all inbound passengers, but some provinces also implemented rules requiring travellers to isolate.
In the United States, as cases have been rising in southern Sun Belt states, northern cities like Chicago, Washington, DC and New York City have implemented separate rules for inbound passengers. These extend to 31 states.
In the tri-state area surrounding metropolitan New York City, rules differ depending on travellers' destinations. Connecticut provides exemptions to passengers who show negative test results, but New York and New Jersey do not, JetBlue's Geraghty says.
The Pacific island state of Hawaii recently extended its 14-day quarantine requirement for passengers arriving on the islands from the mainland US to 1 September, but in June rescinded that requirement for inter-island travellers.
In Europe, the United Kingdom last week declared Spain a high-risk country, requiring returning passengers to isolate for two weeks. Most other European countries do not have that requirement for passengers returning from Spain.
The biggest problem, executives say, is that coronavirus testing remains insufficiently comprehensive or accessible. An efficient and widespread testing programme could alleviate a lot challenges, they say.
Long turnaround times for test results – reportedly up to two weeks in some US regions – decreases testing usefulness.
"The length of time to get [a] test back is increasing, so it's not where it needs to be in terms of providing an effective way… [to ease] travelling," says Geraghty. "We need to get governments comfortable with the fact that a negative test is an effective way of avoiding 14-day quarantine."
Cerda reiterates that the public sector must collaborate with private sector companies – restaurants, hotels, entertainment facilities – to solve issues. Otherwise, passengers' confidence and the industry as a whole will continue suffering.
"When people get on airplanes, they want to have confidence that if something does happen to them, there is going to be a system in place that they will be taken care of," he says.
"Unprecedented events need an unprecedented level of collaboration and communication," says Huntley Lawrence, director of aviation for the Port Authority of New York and New Jersey, which operates the major New York airports of LaGuardia, John F Kennedy International and Newark Liberty International.
"Coordinating a response is essential in this space, and unfortunately it didn't happen," he says.