Pilots' unions are putting their combined weight against single-pilot operations of commercial aircraft, calling concepts leaning more heavily on automation a "profit-driven scheme that poses a significant safety risk".
Air Line Pilots Association, International, the European Cockpit Association and the International Federation of Air Line Pilots' Associations said on 27 March they have formed a coalition against reducing flightcrew on commercial flights and "vowed to take collective action to protect the flying public".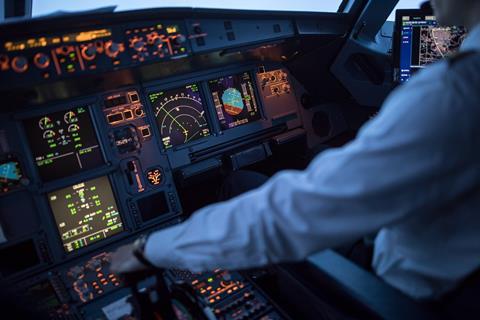 "Despite developments in automation and improved technologies on the flightdeck, two pilots at the controls remain the most important safety features of an aircraft," the groups say.
"Pilots eliminate system-failure scenarios and act as a critical onboard backup for failed systems, bridge technology gaps and adapt in real-time and in the real environment to unanticipated situations and emergencies."
The unions say they their new coalition will counter "aggressive corporate-led lobbying campaigns targeting regulators around the world, including the International Civil Aviation Organization (ICAO)".
A UN agency that promotes safe and efficient air transport, ICAO has for several years studied new operational concepts, including full automation and extended minimum crew operations. In a January 2022 working paper, the agency acknowledged that public and pilot acceptance would be a major obstacle to changing the long-established two-in-the-cockpit rule for commercial aviation.
"The implications of single-pilot operations are easily understandable to non-specialists," ICAO says. "The general acceptance of these new concepts is of relevance, particularly as there may be concerns from both aviation employees and passengers."
The European Union Aviation Safety Agency is also researching whether one pilot could be removed from the cockpit for part of the flight – or all of it – without increasing safety risks, and exploring extended minimum-crew operations as a stepping stone to single-pilot operations.
Extended minimum crew operations would involve a single pilot in the cockpit for the cruise phase of a flight, allowing a second pilot to rest. Only two pilots would be required for long-haul flights, versus the three or four currently necessary to ensure that a pair of rested pilots are in the cockpit.
Airbus has recently trialled autonomous flight concepts using an A350-1000 test aircraft, including emergency diversion and landing, but insists it is working to support dual-pilot operations.
Some are sceptical that the industry will shift away from two pilots in the foreseeable future, however. "I don't expect to see a move to single-pilot operation, if ever, but certainly I don't see it in the next 15-20, even 25 years," says Willie Walsh, director general of airline association IATA, said in December.
Such a move would also continue to face stiff opposition from pilots' unions, which say they are "united in the fight against reduced-crew operations".