The 20 February failure of a Boeing 777-200's Pratt & Whitney PW4077 turbofan was apparently an uncontained failure, with images showing damage similar to a 2018 event.
Still, details about the 20 February failure, which resulted in no injuries, are scarce and the investigation remains in the earliest phases.
John Goglia, an aviation safety expert and former National Transportation Safety Board member, says images and video of the failure powerplant reveal the incident to be an "uncontained failure".
A passenger on United 328 took this video of flames shooting out from the engine. Some people told me they said prayers and held their loved ones' hands as they looked out the window. Flight was on its way to Hawaii from Denver. Glad everyone onboard is safe #9News pic.twitter.com/c8TNYlugU2

— Marc Sallinger (@MarcSallinger) February 20, 2021
Goglia, who has extensive experience studying turbofan failures, sees evidence suggesting the engine's containment ring – typically made of impact-resistant composite material – did not stop wayward components from exiting the powerplant.
"It cut through… And the front section… came apart," he says.
The incident occurred shortly after the 26-year-old United 777 (registration N772UA) departed Denver as flight 328 to Honolulu.
The right-side PW4077 failed a few minutes after the jet departed Denver, according to reports. The pilots made an emergency landing back in Denver 25min after take-off.
The failure sent engine debris falling to the ground, with the engine's nose cowl landing beside a house near Denver.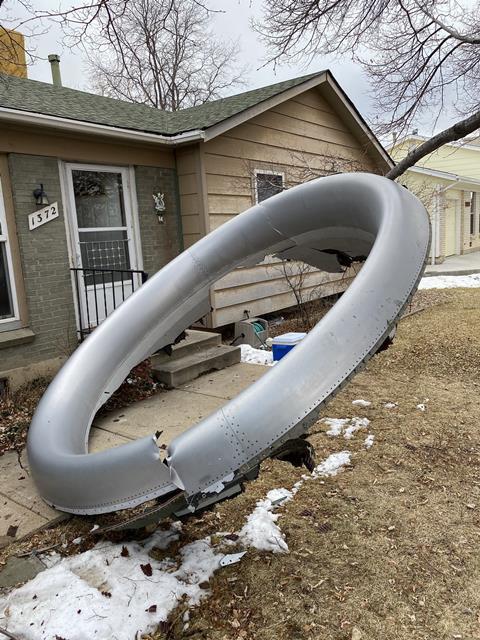 Video of the damaged engine, taken from inside the aircraft, shows the powerplant's forward cowl section missing, with flames coming from the engine's mid and aft sections.
P&W did not respond to a request for comment.
The NTSB is sending local Denver-area staff to the site to begin an investigation, it says.
"Extremely rare engine failures like this prove there is no substitute for experience, and that the most-important aircraft safety system is two well-trained, highly skilled, professional pilots at the controls on the flight deck," says Todd Insler, a United captain and chair of United's chapter at union Air Line Pilots Association, International.
In recent years, several jets have suffered uncontained engine failures, which occur when high-energy components fling outward and are not stopped by the containment ring.
Investigators, aviation safety regulators and aerospace manufacturers have been working to better understand and prevent such failures.
One incident, on 13 February 2018, involved a PW4077 on a United 777-200 (registration N773UA) of nearly the same vintage as the jet involved in today's incident. Both 777s completed first flights within weeks of each other in autumn 1994, according to Cirium fleets data.
The 2018 failure occurred over the Pacific Ocean, as the 777 was inbound to Honolulu. That jet's PW4077 also lost its cowling, including its forward cowl, during the failure, and engine components punctured the jet's fuselage.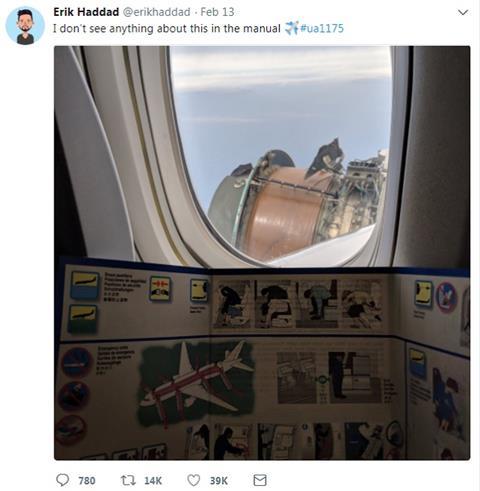 The NTSB attributes the 2018 failure to "a full-length fan blade fracture". Its report notes that P&W did not uncover blade fractures during a 2015 examination due to lack of formal and recurrent training for inspectors.
In December 2020, a Japan Air Lines 777-200 suffered failure of a PW4074, an incident involving loss of a panel and fan-blade damage. That aircraft also landed safely.
Other notable uncontained failures include two CFM International CFM56 events involving Southwest Airlines 737-700s – one in 2018 that killed one passenger, the other in 2016. And in 2017, an Air France Airbus A380's Engine Alliance GP7200 suffered an uncontained failure over Greenland, investigators determined.
'MAYDAY. MAYDAY'
United flight 328 departed on 20 February toward the west along Denver's runway 25, at the airfield's south-westerly corner, and began climbing to its assigned altitude of 23,000ft, according to air traffic control audio available at LiveATC.net.
The first sign something was wrong was the pilot's announcement to air traffic control just a few minutes later.
"We experienced engine failure. We need to turn," he says.
Shortly after, the pilot declares an emergency, saying, "Mayday. Mayday".
He continues, "Mayday. Mayday, United 328 heavy just experienced an engine failure, we need to turn immediately".
The controller vectors the aircraft to an easterly heading and clears it to descend to 9,000ft. One of the pilots then tells the controller that they "need to run some checklists".
They then ask which runway they can use to land.
"Whatever runway you line up for and you want. Let me know and we'll make it happen," the controller responds. "You can have any runway you like."
The aircraft approached from the east, landing on Runway 26.
WIth additional reporting by Pilar Wolfsteller.