A United Airlines flight arriving from Zurich apparently lost an inflatable emergency evacuation slide pack just before landing at Chicago's O'Hare International airport.
The carrier on 17 July confirmed local media reports that the slide fell out of a landing aircraft earlier in the day. The Chicago-based airline said, "We immediately contacted the [Federal Aviation Administration] and are working with our team to better understand the circumstances around this matter."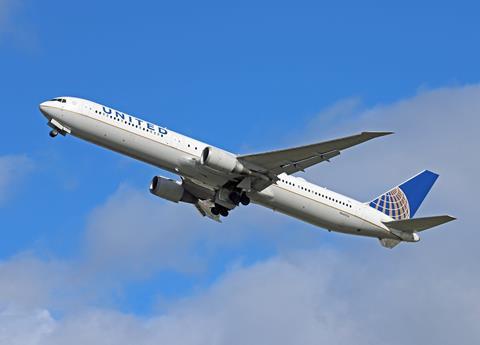 The Federal Aviation Administration adds that it is investigating the incident.
"Maintenance workers at Chicago O'Hare International airport discovered an emergency evacuation slide was missing from a United Airlines Boeing 767 (UAL Flight 12) that had just landed safely after a flight from Switzerland," the US aviation regulator says.
"The slide was located in a nearby neighbourhood."
Images posted to social media show uniformed police officers gathering up grey material, which has been identified as the slide, from a sidewalk just east of the airport. It is unclear how the evacuation slide detached from the aircraft, as the slides are stored inside the door.
United says flight UA12 was operated on a Boeing 767-300 aircraft with 10 crew members and 155 passengers on board.
According to Cirium fleets data, United operates 37 aircraft of the type, ranging in age from 20 to 32 years old.