US airline trade groups have called upon the government to quickly and uniformly prosecute passengers who are accused of unruly behaviour, and are increasingly creating a safety hazard on flights.
On 21 June, nine organisations including Airlines for America (A4A), the Southwest Airlines Pilots' Association (SWAPA), Air Line Pilots Association, International (ALPA), and the Regional Airline Association (RAA) say in a letter to the US Department of Justice that they have a "heightened concern regarding the substantial increase in and growing escalation of passengers' unruly and disruptive behaviour on-board aircraft, particularly toward crew members".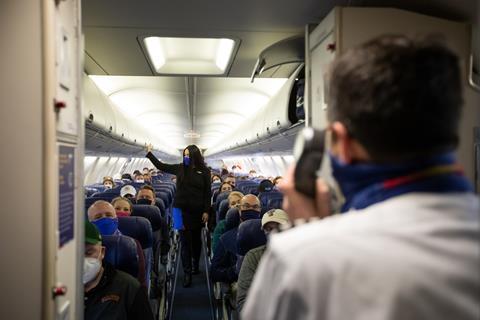 "The federal government should send a strong and consistent message through criminal enforcement that compliance with federal law and upholding aviation safety are of paramount importance," the groups say.
"The agency has also pursued some form of enforcement action more than 400 times through May of 2021, compared to a year-end total of 146 in 2019, and has initiated 57 civil penalty actions," the letter reads.
On 13 January, Administrator Steve Dickson announced the US regulator's "zero-tolerance" stance, which imposes fines of up to $35,000 and possible jail time against belligerent passengers. The order will be in place as long as mask-wearing is required. The federal mask mandate is currently due to expire in September.
Last month, the FAA imposed one of the steepest penalties for troublesome in-flight behaviour in its history – $52,500 – after a customer attempted to break into a cockpit during a flight from Honolulu to Seattle, and twice assaulted a flight attendant. Numerous other passengers have been fined.
Concurrently, A4A has written a letter to the Federal Aviation Administration, saying it continues to see "onboard behaviour deteriorating into heinous acts, including assaults, threats and intimidation of crewmembers that directly interfere with the performance of crewmember duties and jeopardize the safety and security of everyone on-board the aircraft".
"We respectfully request that the FAA and other federal agencies amplify the messaging to reach all travelers about the proposed penalties … to put a very public spotlight on the sentences handed down to perpetrators," A4A says.
"It will send a powerful message if the flying public sees that perpetrators are truly paying hefty fines and are going to jail after being convicted. It is important to demonstrate that the penalties are real actions – not just words," the trade group adds.