Passengers travelling on one of the busiest days of the year are still contending with brutal winter weather that has crippled numerous airlines' and airports' operations across the country.
In Seattle, by 12:00 noon local time on 23 December, almost 50% of both incoming and outgoing flights - or more than 520 flights - have been cancelled, according to flight tracking website FlightAware.com. Seattle-based Alaska Airlines has cancelled 49% of its scheduled operations, or 383 flights. 92 flights, or 11% are delayed.
"We continue to keep the runway and adjoining taxiways clear as our snow crews de-ice and keep things safe," Seattle-Tacoma International airport posted on its Twitter account. "We've seen some action as airline operations trickle in and out. We will work on more runways as the weather warms and improves."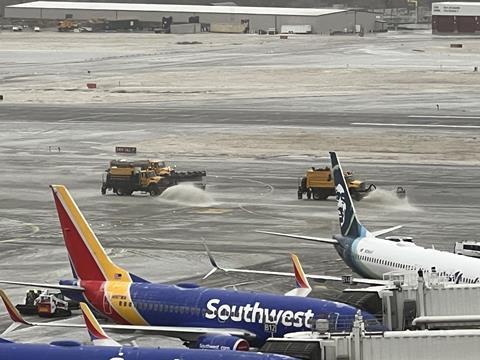 "Freezing rain & icy conditions at [Seattle-Tacoma airport] have forced us to pause flying before noon," Alaska Airlines says. "It will take warmer weather and time to clear our ramp and aircraft of ice. We are working hard to resume safe operations."
Numerous other cities across the country - including major airline hubs Chicago, Detroit, New York City, Toronto and Washington DC - are experiencing similar conditions as a powerful winter storm bears down on the country. The US National Weather Service (NWS) says that the "historic winter storm [will] produce widespread disruptions to large portions of the nation heading into the holiday weekend".
Southwest Airlines has cancelled 22% of its schedule, or 923 flights, with 1,390, or 34% of its flights delayed.
Regional carrier SkyWest Airlines cancelled 413 flights, American Airlines cancelled 343 flights, Delta Air Lines cancelled 278 flights and United Airlines 271 flights.
More than 200 million people, or roughly 60% of the US population are "under some form of winter weather warnings or advisories across the US," NWS adds. These include wind chill, blizzard and ice-storm warnings.
"Travel has already been affected by this storm along with reported power outages," NWS says. "This system will have increasingly widespread impacts to travel going into the busy holiday travel time late this week, along with the potential for power outages from the expected high winds, heavy snows, significant icing and overall increased power consumption in places."
Prior to the storm, most airlines had introduced waivers for travellers to and from hundreds of destinations across the continental USA, allowing them to change their travel plans without penalty.
At 12:00 Pacific Time, FlightAware.com tracked a total of 4,639 cancellations across the United States, and 6,461 delayed flights. Those figures are expected to continue rising throughout the day.