Major US airlines have suspended flights to Israel and security concerns abound after Palestinian militant group Hamas launched a surprise attack on the country over the weekend.
"American Airlines has temporarily suspended operations to and from Tel Aviv, Israel and has issued a travel alert providing additional flexibility to customers whose travel plans are affected," the Fort Worth-based carrier said on 9 October. "We continue to monitor the situation with safety and security top of mind, and will adjust our operation as needed."
American operates daily flights between Tel Aviv and New York's John F Kennedy International airport.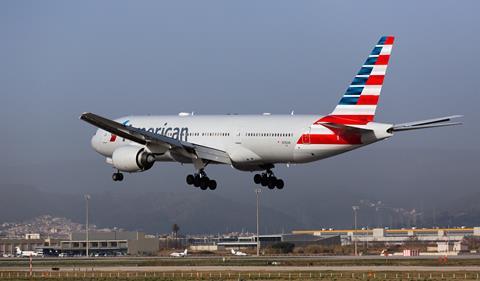 United Airlines says its flights to the Middle East country are also suspended "until conditions allow them to resume".
"The safety of our customers and employees is our top priority," that airline says. "We operated two scheduled flights out of Tel Aviv late Saturday and early Sunday and accommodated our customers, crews and employee travellers who were at the airport."
The Chicago-headquartered carrier flies to Tel Aviv from its US hubs at Washington-Dulles, Chicago, Newark and San Francisco.
Tel Aviv's Ben Gurion airport remains open, the US Department of State said on 9 October. EASA has said Israeli authorities are effectively addressing potential risks to civil aviation.
But aviation-operations safety collective Opsgroup in a 9 October message issued a "Do Not Fly" warning for Israel, saying the country "is now an active war zone".
"As such, all lessons learned regarding civil operations in conflict zones over the last nine years since [Malaysian Airlines flight MH17] need to be applied. The risk of a passenger aircraft becoming a casualty of this war is high," Opgroup's message says. It also cites Iran's shoot down in 2020 of Ukraine International Airlines flight 752.
Some three dozen airlines had scheduled a combined 6,700 international flights to Israel in October, according to Cirium networks data.
Delta Air Lines, which, according to Cirium, flies to Tel Aviv from Boston, Atlanta and John F Kennedy, has cancelled flights through the end of the month. It is also offering travel waivers to passengers who had been planning to travel.
"As Delta continues monitoring events in the region, we have made the difficult decision to cancel our [Tel Aviv] flights through Oct. 31, 2023," the airline says. "Delta will continue to explore options for customers to safely exit TLV via seats that become available on our partner airlines.
Other airlines have also suspended flights for the next several days. Lufthansa says, "Due to the still unclear situation in Israel and after intensive analysis of the situation, Lufthansa has decided to suspend its regular flights to and from Tel Aviv up to and including Saturday (14 October)."
Air France has cancelled flights "until further notice" and "is constantly monitoring the geopolitical situation in the areas served and overflown by its aircraft in order to ensure the highest level of flight safety".
Swiss International Air Lines says it will operate a special flight from Zurich to Tel Aviv and back in cooperation with the Swiss Federal Department of Foreign Affairs (FDFA) on 10 October. "The flight is intended to offer Swiss nationals in Israel the opportunity of a prompt return to their home country."
The air travel disruptions have also prompted at least two governments to send military aircraft to evacuate citizens from Israel. Polish air force transports have made four flights from Tel Aviv as of 9 October, while six Brazilian air force jets are staging in Rome to support Brasilia's evacuation effort.
Updates on 9 October to include a statement from Delta Air Lines.