US airlines have modified their operations and begun evacuating residents and tourists from a Hawaiian island as brush fires there have killed at least three dozen.
United Airlines, Hawaiian Airlines, Alaska Air and American Airlines have said on 10 August that they have modified their schedules to take into account the destructive fires, which have reduced parts of Maui to smouldering rubble.
Hawaiian, headquartered in Hawaii's capital Honolulu on neighbouring Oahu island, says it operated nine extra flights between Kahului on Maui and Honolulu on 9 August in order to help evacuate travellers and support emergency response efforts. On 10 August the airline will be operating six more. It's also introduced cut-rate fares to support those affected by the fires.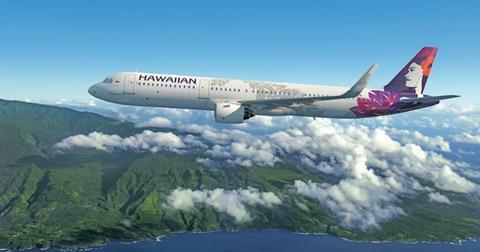 "Hawaiian is continuing to offer reduced $19 main cabin fares out of Maui to facilitate urgent travel needs," the airline adds. "With the state of Hawaiʻi discouraging non-essential travel to Kahului, we are supporting our guests with flexible travel options to change their flights to and from Maui or receive a refund."
Hawaiian offers by far the most connections to and from Maui's Kahului Municipal airport, followed by Southwest Airlines. Both fly to ten destinations within the Hawaiian Islands as well as on the US mainland from the airport, according to Cirium networks data.
Southwest did not immediately respond to a request for further information but did post on X, the social media platform formerly known as Twitter.
"Our heart is with Hawaii," the airline says. "We've added additional flights between the islands, and back to the mainland this week, to keep people and supplies moving."
United, American and Alaska, meanwhile, say their teams are "monitoring the situation closely".
"We're emphasising safety as always and checking on the welfare of our employees on Maui," Chicago-based United says. "We've cancelled today's inbound flights to Kahului Airport so our planes can fly empty to Maui and be used as passenger flights back to the mainland." It also has waivers in place for travellers who wish to change their itineraries.
"We're supporting evacuation efforts by adding additional flights out of Maui and upgrading aircraft to provide more seats," American adds. "To provide additional flexibility, American issued a travel alert, allowing customers whose travel plans are affected by the wildfires to rebook without fees, cancel or receive a refund."
Alaska says that it's contuing to operate its eight scheduled departures from Maui on 10 August, and has added a "rescue flight", with the intention to add more "to help get people off the island".
"What we're seeing in Hawaii is devastating and we're monitoring the situation closely. Our main concern is the safety of our employees and guests."
Delta Air Lines and regional carrier Mokulele Airlines also operate flights from Maui.