US airlines have asked the government to eliminate the federal mask mandate that has been in place for more than a year, and the pre-entry Covid-19 test requirement for international travellers.
In a letter addressed to President Joe Biden, the chief executives of 10 airlines and the lobby group Airlines for America (A4A) say the rules "no longer make sense in the current public health context". The request comes ahead of what the industry hopes will be a strong summer holiday travel season.
"Now is the time for the administration to sunset federal transportation travel restrictions – including the international pre-departure testing requirement and the federal mask mandate – that are no longer aligned with the realities of the current epidemiological environment," the letter reads.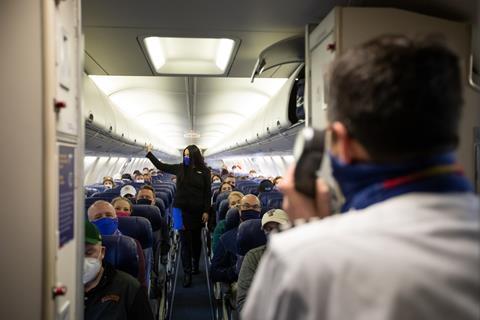 Signatories include the CEOs of Alaska Air Group, American Airlines, Atlas Air Worldwide, Delta Air Lines, FedEx Express, Hawaiian Airlines, JetBlue Airways, Southwest Airlines, United Airlines and UPS Airlines.
"The pre-departure test requirement, imposed to slow the introduction of variants into the US, has outlived its utility and stymies the return of international travel," the letter adds. "The United Kingdom, the European Union and Canada have recognized this reality and lifted travel restrictions. The US inconsistency with these practices creates a competitive disadvantage for US travel and tourism by placing an additional cost and burden on travel to the US."
The testing regimen was introduced last year after the USA eased its entry ban for fully-vaccinated travellers from abroad. Currently, all inbound passengers must present a recent negative coronavirus test result prior to boarding their flights.
The federal mask mandate, which has been extended several times, is due to expire on 18 April. It was put into place in January 2021 upon recommendation by US public health agency Centers of Disease Control and Prevention (CDC), months after many US airlines had already introduced their own face-covering requirements.
"The science clearly supports lifting the mask mandate, as demonstrated by the recently released CDC framework indicating that 99% of the US population no longer need to wear masks indoors," the letter says. "It makes no sense that people are still required to wear masks on airplanes, yet are allowed to congregate in crowded restaurants, schools and at sporting events without masks, despite none of these venues having the protective air filtration system that aircraft do."
Since its introduction, the face-covering rule has led to a sharp increase in in-flight air-rage incidents, and required cabin crew to act as enforcers of the federal order. Travellers upset with the rule have verbally and physically assaulted airline staff, with some incidents leading to injuries, aircraft diversions and arrests.
Since the policy went into effect, the FAA has received more than 6,900 reports of unruly passengers, more than 4,800 of which were related to mask-wearing. As of 23 March, it has launched nearly 1,400 investigations and initiated 476 enforcement actions, which include heavy fines for perpetrators.