US airlines have applauded the government's scrapping of a pre-departure Covid-19 testing mandate for inbound international air travellers.
"We are pleased that the pre-departure testing requirement has been eliminated for international air travellers who are eager to visit or return home to the United States," says Nicholas Calio, chief executive of airline lobby group Airlines for America (A4A), on 10 June..
The administration of President Joe Biden will reportedly announce later today that the proof of a negative test result will no longer be required beginning on 12 June at midnight, Eastern Daylight Time.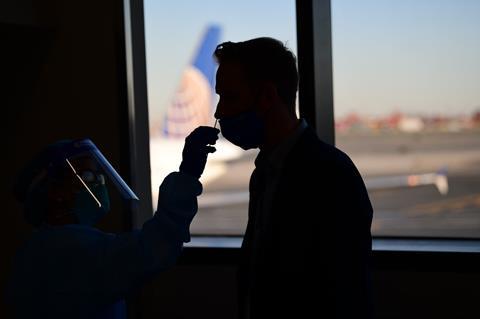 It is unclear if travellers will need to arrive in the USA after that time, or begin their journey after that time, to be freed from the test requirement.
"Lifting this policy will help encourage and restore air travel to the United States, benefiting communities across the country that rely heavily on travel and tourism to support their local economies," Calio adds. "We are eager to welcome the millions of travellers who are ready to come to the US for vacation, business and reunions with loved ones."
American Airlines adds, "With the widespread availability of effective treatment options and vaccines, we believe this is the right time for this decision."
"We are eager to see more of our customers return to international travel and will continue to create a welcoming environment for those who choose to wear a face mask during their travels," the Fort Worth-based carrier says.
Atlanta-based Delta Air Lines says, "In light of medical advancements and improved public health metrics, removing this pandemic-era policy is not only welcome news to travelers who are ready to get back out and see the world, but will aid in the overall economic recovery of the US."
The requirement, which had been in place since January 2021, had increasingly drawn the ire of airlines and the travel industry, with executives repeatedly appealing to the government to drop the requirement.
The tests, they said, dissuaded US passengers from going abroad for fear that they would test positive and be stranded overseas. In addition, the wide range of costs charged for coronavirus tests in other countries added expense to any trip to the USA.
Initially, inbound travellers were permitted to present a test that was taken within three days of departure from the foreign country, but the rule changed in December, after the more-transmissible Omicron variant tore around the world, to require the test result within 24h of departure.
Updates on 10 June to add a statement from Delta Air Lines,