Seven prominent aviation groups have expressed opposition to changing US government rules governing "public charter" airlines like JSX – changes that may threaten such carriers' ability to operate.
The groups – representing airlines, aircraft manufacturers and others – sent a letter to the US government on 13 October warning that rule changes "could have unintended negative consequences" and be "detrimental to competition, innovation and aviation emerging technologies".
The signatories include the Airline Passenger Experience Association, General Aviation Manufacturers Association, Helicopter Association International, International Flight Services Association, National Air Transportation Association, National Association of State Aviation Officials and National Business Aviation Association.
Earlier this year, the FAA issued a Notice of Intent asking for public comment about potential revisions to the regulatory definitions of "on-demand operation," "supplemental operation" and "scheduled operation" under rules governing aviation in the USA.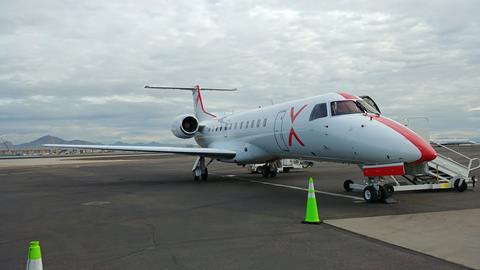 FAA regulations govern the operations of air carriers, while Department of Transportation (DOT) Part 380 regulations address economic authority for those companies. The current rules allow a part 380 operator to work with any air carrier, including on-demand carriers operating under the FAA's Part 135.
"For more than 45 years, Part 135 carriers have operated aircraft safely and reliably on behalf of public charter operators under DOT Part 380, unlocking substantial public benefits and providing valuable air transportation to many communities that otherwise would not have commercial air service," the aviation groups said in their filing with the government.
"Changing regulations could eliminate well-paying jobs at all levels of the industry while hurting economic competition, carbon emissions reduction, emerging technologies, aviation innovation and service to small communities," they say.
The move to change the rules comes amid a push by unions and some major US carriers to close what they call a "loophole" allowing public charters to skirt aviation safety regulations. JSX says the complaint is part of a campaign designed to put it out of business, and hinder competition.
Last week, JSX launched an online campaign advocating against the effort to modify rules, which allow its operation. Called "Keep JSX Flying", the campaign seeks to shore up public support for JSX and other carriers operating similar business models. It says it serves an important niche in the market, and its operations are "safe, secure and reliable".
Controversy about public-charter airlines rose after regional carrier SkyWest Airlines earlier this year announced plans to establish a charter operation, similar to what JSX has been doing for years.
"In an industry where four major airlines control more than 80% of the domestic market, Part 380 provides much-needed competition in a highly concentrated marketplace, often ensuring secondary markets and small communities continue to have options for meeting the air transportation needs of their citizens," the organisations write.
Modifying the definitions of these rules will "remove the opportunity for innovative business models, including business models in development (such as eVTOL) that will support proliferation of environmentally sustainable emerging technologies", the aviation groups add.
Marketing itself as a "hop-on jet service", JSX sells tickets at prices that are typically less than first-class airline tickets. It has denied that a regulatory loophole exists and said it fully complies with safety regulations. The carrier says its pilots have thousands of hours of experience and that its security is regulated by the Transportation Security Administration and includes weapons and explosives detection.
American Airlines and Southwest Airlines, both headquartered in or near Dallas, support the FAA's plans, urging regulators to disallow JSX's type of operation. JSX is also based in Dallas and has a substantial operation from Dallas Love Field.
But other major US airlines have partnered with JSX. United Airlines and JetBlue Airways, have frequent-flier partnerships with JSX, according to the airlines' websites. United is also an investor. Both support the public charter operations.
The government received more than 50,000 comments about the proposed rule changes by a 13 October deadline.