Citing the risk of altimeter interference, the US airline and aerospace industries have asked the US government to temporarily prevent cellular telecommunications providers from starting to use newly available radio frequencies.
Several cellular companies plan on 5 January 2022 to begin using newly available radio frequencies for their "5G" networks. But those frequencies encroach on frequencies used by aircraft altimeters, sparking safety concerns.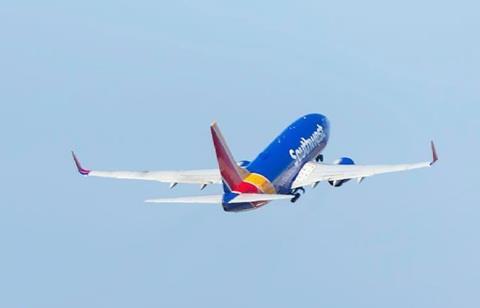 "These 5G systems have the potential to cause harmful interference to radio altimeters, which are crucial systems used by every commercial aircraft and helicopter, and many general aviation aircraft," say a coalition of aviation companies and groups in a recent letter to the US National Economic Council.
The Council is a White House office that advises the US president on matters involving economic policy.
"Aviation will not be able to maintain the current level of public safety and economic activity without support from the Biden-Harris Administration and the implementation of mitigations by the cellular industry," the letter adds. It was dated 5 November but made public on 9 November by the Aerospace Industries Association (AIA).
Airbus, Boeing, Collins Aerospace, Honeywell and Garmin International signed the letter. So did trade groups AIA, Airlines for America and the National Business Aviation Association, and union Air Line Pilots Association, International.
US cellular companies have longed used the 3650-3700 MHz range. But the Federal Communications Commission (FCC) recently licensed several providers to use the 3700-3980 MHz range – close to the 4200-4400 MHz range used by aircraft radio altimeters.
The telecom companies had FCC authorisation to begin using the new range in 5 December. But, in light of aviation concerns, several companies recently agreed to delay until 5 January 2022, according to reports.
"It is incumbent on the National Economic Council to work with the FCC and FAA to convene a joint industry working group and continue to delay the deployment of 5G technologies in this band until the safety and efficiency of the [national airspace system] is ensured," says the industry's letter.
On 2 November, the FAA issued a Special Airworthiness Information Bulletin warning of potential altimeter interference caused by 5G. The bulletin cites a 2020 report, written by aeronautics technical group RTCA, which found "major risk that 5G… will cause harmful interference to radio altimeters on all types of civil aircraft".
In its letter, the aviation industry warns that, without a plan to ensure safety, the FAA could be forced to take further action, which would cause "enormous economic" impact.
The letter's signatories pledge to "diligently… develop new standards, equipment and aircraft/helicopter solutions", but they say such solutions will "take significant time".