Ten aviation unions have called on the US government to prevent SkyWest Airlines' new charter unit, SkyWest Charter, from gaining Department of Transportation (DOT) approval.
In a joint letter on 5 May, the group of unions, which includes Air Line Pilots, International (ALPA), Allied Pilots Association (APA), National Air Traffic Controllers Association (NATCA), Association of Flight Attendants-CWA (AFA), Transport Workers Union of America, and others, say that the SkyWest Charter model is intended to "skirt safety and security regulations".
The letter is addressed to the US Department of Labor, the Federal Aviation Administration, the Department of Transportation (DOT) and the Transportation Security Administration (TSA).
"We write to express concern that a previously rare and limited business model for air service, once confined to private jet charters, is expanding so rapidly that it threatens to take over a large part of the air services in the United States," the letter reads. "Approval of [Skywest's] application will open the floodgates in aviation to compete in the same arena."
The unions say that Skywest Charter plans to "link small communities to the national airline network under a lesser standard of safety".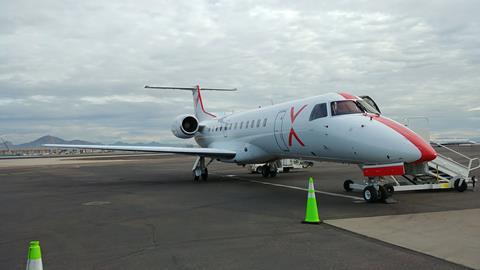 While SkyWest Airlines itself is a regular commercial operator, operating under standard regulations, SkyWest Charter is poised to operate under so-called Part 135 rules, which allow carriers some leeway that commercial airlines do not have. For example, Part 135 operators can employ pilots with less than the standard 1,500h minimum total aviation experience time, and allows pilots over the usually-mandatory retirement age of 65 to continue flying.
SkyWest contracts with major US carriers Alaska Airlines, American Airlines, Delta Air Lines and United Airlines, operating a fleet of more than 500 regional jets. Its network connects secondary cities to these airlines major hubs across the country, and also serves numerous Essential Air Service (EAS) routes.
The unions complain that SkyWest plans to "swap SkyWest Charter for itself", thus getting out from under the strict rules governing regular commercial airlines.
The unions say that another carrier, JSX, operates under a similar model.
"JSX is providing scheduled passenger service between major airports available for purchase in a manner that — to the ordinary consumer — looks identical to buying a seat on a regular scheduled airline," the letter reads. "This arrangement enables JSX to fly a self-described 'hop-on jet service' with scheduled operations on aircraft limited to 30 passengers under Part 135, asserting a speedy path to the plane using 'private terminals,' and 'non-invasive security procedures.'"
JSX customers do not have to pass through TSA checkpoints, and the carrier advertises "hassle-free" and "crowd-free" flying. This, the unions say, "is a departure from aviation safety and creates a very real divide in aviation for who can afford access and who cannot".
On 26 April, ALPA had already appealed to secretary of transportation Pete Buttigieg to stop what it called SkyWest's "alter-ego charter" carrier.
In his own letter to Buttigieg, dated 27 April, Chip Childs, SkyWest's chief executive, said the ALPA assertions were "baseless, inaccurate and misleading, ALPA's assertions are thinly-veiled attempts, under the cloak of 'safety', to bar market entry by a well-capitalised, exceptionally well-equipped, non-ALPA operator in SkyWest Charter."