US public health agency Centers for Disease Control and Prevention (CDC) has asked the US Department of Justice (DOJ) to appeal a judge's ruling that struck down the federal mask mandate in public transportation settings.
"It is CDC's continuing assessment that at this time an order requiring masking in the indoor transportation corridor remains necessary for the public health," the agency says on 20 April. "CDC believes this is a lawful order, well within CDC's legal authority to protect public health."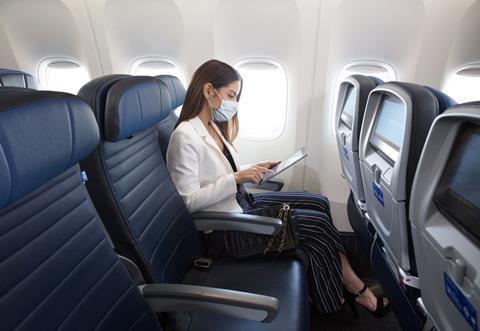 Earlier this week, judge Kathryn Kimball Mizelle of the US District Court for the Middle District of Florida vacated the CDC's mask order, implemented to reduce the spread of Covid-19, saying it "exceeded the CDC's statutory authority".
Later that day, the Transportation Security Administration (TSA), said that in light of the ruling, it would no longer enforce its security directives and emergency amendment requiring mask use on public transportation and transportation hubs such as airports.
US airlines reacted quickly to the court's decision, and within hours nearly all US airlines had told thier customers and employees that wearing a face covering on-board their aircraft would be optional. In the past weeks, the carriers had urged the government to relax the mandate, saying that the risk of catching or transmitting Covid-19 in aircraft was low, now that much of the population is vaccinated.
That said, the CDC is sticking to its guns.
"CDC continues to recommend that people wear masks in all indoor public transportation settings," the health agency adds. "CDC's number-one priority is protecting the public health of our nation. As we have said before, wearing masks is most beneficial in crowded or poorly ventilated locations, such as the transportation corridor."
Meantime, the Federal Aviation Administration has said that it will maintain its "zero tolerance" policy, introduced last year after the regulator received "a disturbing increase in unruly passenger incidents". Many of those incidents occurred as a result of the unpopular mask mandate.
"Behaving dangerously on a plane will cost you; that's a promise," acting FAA Administrator Billy Nolen says on 20 April. "Unsafe behavior simply does not fly and keeping our zero tolerance policy will help us continue making progress to prevent and punish this behavior."
The FAA has slapped hefty fines on perpetrators, and as of 16 February it has referred 80 unruly passenger cases to the Federal Bureau of Investigation for criminal review.