The US Federal Aviation Administration has returned Mexico's aviation safety rating to "Category 1", the highest level, allowing airlines once again to increase connectivity between the USA and its southern neighbour.
The long-awaited reinstatement, which had been rumored for several days, was officially announced on 14 September and comes more than two years after the US aviation regulator degraded the country to "Category 2".
"With a return to Category 1 status, Mexico can add new service and routes to the US, and US airlines can resume marketing and selling tickets with their names and designator codes on Mexican-operated flights," FAA says.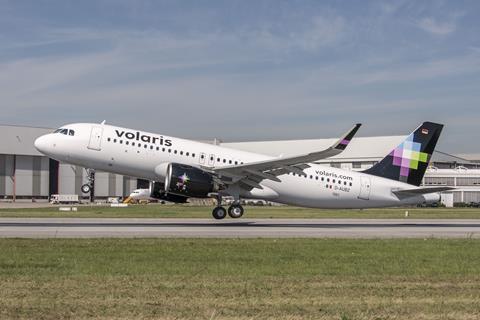 The FAA had downgraded Mexico's International Aviation Safety Assessment (IASA) rating in May 2021 "after finding the country did not meet International Civil Aviation Organization (ICAO) safety standards".
Category 2 designations mean the FAA does not view a country as having laws or regulations needed to support safe air travel, or that its civil aviation authority lacks adequate technical expertise, trained personnel, record keeping, inspection procedures or resolution of safety concerns.
While the FAA allowed existing air service between the countries to continue, the Category 2 designation restricted Mexican carriers from introducing new US routes and hindered US airlines' ability to market and sell tickets on Mexican carriers via codeshare partnerships. The FAA adds that it provided expertise and resources to Mexico's aviation regulator AFAC in order to resolve the issues that led to the downgrade. It adds that it sent a team of aviation safety experts "multiple times over the last two years" to assist.
Local Mexican media had reported that the FAA and Mexican authorities held final meetings last week about the aviation safety audit on the recovery of Category 1.
Mexican low-cost carrier Volaris has been eagerly awaiting the upgrade, saying it is prepared to add significantly to its schedule between the two countries. In April, the carrier said it would add about 30 aircraft to its operating specifications with the FAA to accommodate an expansion.
"We expect Volaris to start adding new US markets to their route network," TD Cowen aviation analyst Helane Becker wrote in a note earlier this week. "We also expect them to increase service in some existing markets where there is strong demand. We expect that service to the US will increase almost immediately as Volaris pulls aircraft out of domestic markets and reallocates the capacity to the US."
The carrier did not immediately respond to a request for comment.
Aeromexico, meantime, said on 14 September that the return to Category 1 "allows us to strengthen connectivity with one of the country's most important markets, the United States, to make more efficient use of the aircraft that have joined our fleet and to improve our customers' experience".
Other carriers have also said they will increase connectivity between the USA and Mexico once the safety status is restored.
Ultra low-cost carrier (ULCC) Allegiant Air is awaiting US government approval of a joint venture with ULCC Viva Aerobus, which could also expand service significantly between the two countries.
Updates on 14 September to add Aeromexico reaction.