The US Department of State is calling for an investigation into a "shocking" incident involving the "forced diversion" of a Ryanair jet in Minsk, and the removal by Belarusian authorities of one passenger.
"The United States strongly condemns the forced diversion of a flight between two EU-member states and the subsequent removal and arrest of journalist Roman Protasevich in Minsk," says US secretary of state Antony Blinken on 23 May. "We demand his immediate release."
"This shocking act perpetrated by the Lukashenko regime endangered the lives of more than 120 passengers, including US citizens," Blinken adds.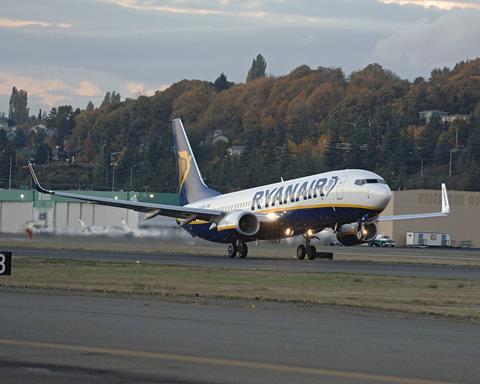 The incident involved a Boeing 737-800 – registered to Ryanair's Polish division Buzz –operating flight FR4978 from Athens to Vilnius, Lithuania on 23 May.
While overflying Belarus, the Ryanair jet was reportedly ordered to divert by the Belarusian government, which deployed a RSK MiG-29 fighter to escort the commercial flight.
The 737 diverted to the Belarusian capital Minsk, where, reportedly, that country's government detained passenger Protasevich, who has been a vocal critic of Belarusian president Alexander Lukashenko.
"Initial reports suggesting the involvement of the Belarusian security services and the use of Belarusian military aircraft to escort the plane are deeply concerning and require full investigation," US secretary of state Blinken says.
Citing "indications the forced landing was based on false pretences", Blinken calls for "the earliest possible meeting of the council of the International Civil Aviation Organization to review these events".
While on the ground in Minsk, "passengers were offloaded while security checks were completed by local authorities", says Ryanair in a statement. "Nothing untoward was found and authorities cleared the aircraft to depart, together with passengers and crew, after [approximately] 7h on the ground in Minsk."
According to reports, the jet departed without one passenger – Protasevich. It landed in Vilnius at 21:25 local time, says Ryanair.
The US government is "closely coordinating our response with our partners, including the EU and Lithuanian and Greek officials", says Blinken.
European officials have expressed similar concern, with European Commission president Ursula von der Leyen describing the event as "utterly unacceptable".