The US government has extended its face-mask mandate for travellers by air and other forms public transportation for another 15 days, as a sub-variant of Covid-19 spreads across the USA.
Public health agency Centers for Disease Control and Prevention (CDC) says on 13 April, just five days before the old order was due to expire, that the requirement should be extended until at least 3 May. CDC says this is due to Omicron sub-variant BA.2, which currently makes up a majority of the reported coronavirus cases in the country.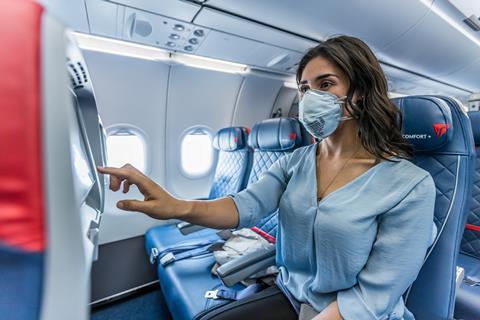 "In order to assess the potential impact the rise of cases has on severe disease, including hospitalisations and deaths, and health care system capacity, the CDC order will remain in place at this time," the agency says on 13 April.
At CDC's recommendation, the Transportation Security Administration (TSA) confirmed the mandate would remain in place in transportation hubs and on public transportation as well.
In past weeks, airlines have pushed hard to eliminate the mandate, saying it slows widespread industry recovery after the two-year global health crisis.
Earlier in the day, Delta Air Lines executives said they were expecting an imminent relaxation of the rules around face coverings on aircraft, as well as the pre-departure testing requirement for inbound international travellers. Eliminating these would indicate "Covid is in our rear-view mirror", chief executive Ed Bastian said.
The Federal Aviation Administration says the number of air rage incidents climbed sharply last year as many travellers protested the mandate. In 2022 through 4 April, the FAA received 744 unruly passenger reports related to the face covering rule. Last year that figure was 4,290.
Updates on 13 April to add statement from Transportation Security Administration (TSA).