The US government is sending nearly 100 million face coverings to airports and transportation agencies to help ensure travellers protect others from potential coronavirus spread as they use public transit and pass through the facilities.
About 86.8 million face coverings will be distributed to airports, and 9.6 million coverings will be distributed to 458 transit agencies and Amtrak, the US Department of Transportation (DOT) said on 12 June. These are in addition to 15 million face coverings that were distributed for critical transportation infrastructure workers already.
"This administration is committed to protecting our people and reopening the economy; distributing these facial coverings will help boost public confidence as we begin to resume our normal lives," says transportation secretary Elaine Chao in a statement.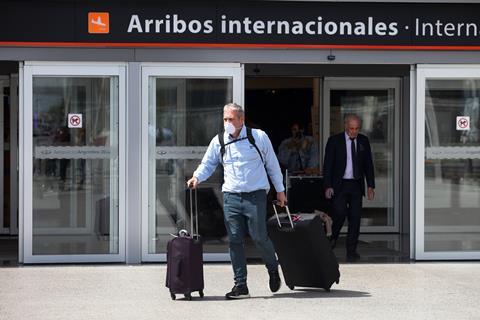 The DOT says passengers are still responsible for bringing their own facial coverings, and these will supplement the travellers' personal equipment.
Most airlines have issued a face-covering requirement in their aircraft in order to stop the spread of the highly-infectious virus, but so far there is no general rule forcing carriers to do so. Some airports also require travellers to cover their nose and mouth as they transit through the buildings.
The Air Line Pilots Association, International (ALPA) has repeatedly called on Congress to force the Federal Aviation Administration to require airlines to follow US Center for Disease Control (CDC) recommendations in order to keep travellers and airline employees safe.
In May, the union released a report accusing airlines of not sufficiently protecting crews from risks related to coronavirus or providing clear health guidance.
The report included allegations of airlines scrimping on aircraft sanitation, not following up on suspected coronavirus exposures in crews, missing or inadequate disinfection supplies and protective equipment, and not adhering to guidelines meant to keep crews safe. The pilots complained of unclear, incomplete or confusing communications from their corporate headquarters.
Already in April, at the height of the pandemic in the US, the union sent a letter to the FAA complaining of an "absence of… FAA leadership" on this topic, and saying that pilots had reported "a significant number" of failures to meet coronavirus-related guidance published by the CDC.
The coronavirus has so far stricken more than 2 million Americans, and caused 114,000 deaths, according to Johns Hopkins University's Coronavirus Resource Centre. While individual states and regions ease shelter-in-place orders and lockdowns that had been in effect since March, the number of infected individuals continues to rise.