A US lawmaker has asked aviation security and investigative authorities to place customers who have been identified as committing crimes during the 6 January riot in Washington, DC on the national "no-fly" list.
Thousands of pro-Trump rioters stormed the US Capitol building in an unsuccessful attempt to stop the legislature from certifying Joe Biden as the next President of the USA. The mob failed and Biden was eventually certified as the election winner later in the evening.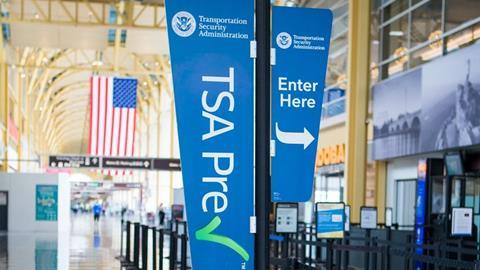 As many of the protesters return home later this week, US House of Representatives homeland security committee chairman Bennie Thompson urges the Transportation Security Administration (TSA) and the Federal Bureau of Investigation (FBI) to exercise their power to prevent the "violent perpetrators" who participated in the "domestic terrorist attack" from flying on US commercial aircraft in the future.
"We already saw reports of 'unruly mobs' in air on the way to Washington, DC.," Thompson writes. "It does not take much imagination to envision how they might act out on their way out of DC if allowed to fly unfettered."
TSA is responsible for security at about 450 airports across the nation. The national "no-fly" list is a database that the FBI maintains in order to keep potential terrorists and terrorism suspects from the nation's airports and aircraft.
"Individuals on the No Fly List are prevented from boarding an aircraft when flying within, to, from and over the United States," the agency says on its website.
The call comes a day after flight attendants' union AFA-CWA said that its members were afraid for their safety on-board aircraft, after the rioters swarmed the Capitol building, breaking windows, destroying property and threatening journalists, law enforcement and onlookers. Reports say that at least five people died as a result of the violent altercation.
Several videos published on social media show Trump supporters shouting and causing disruptions on flights to Washington, DC the day prior to the riot.
Meantime, Fort Worth-based American Airlines says it has temporarily stopped serving alcohol on flights to and from Washington, DC.
In a note from chief executive Doug Parker and president Robert Isom to employees, they write that the airline also "took quick action to move our crew to different hotels, coordinate with law enforcement and airport partners [and] increase our staffing at Washington, DC-area airports".
They advise their employees to be vigilant and immediately report any incidents that could compromise safety on board, but they stop short of saying specifically if they will ban customers for unruly behaviour.
"If you find yourself in an uncomfortable situation arising from a difference of views among our customers and you are unable to manage that situation, do not hesitate to elevate your concerns," they say. "Improper and inappropriate behaviour should always be reported, and action will be taken to hold people accountable."