Two US lawmakers have asked the Federal Aviation Administration for results of an employee survey about the regulator's safety culture as part of its investigation into the design, development and certification of the troubled Boeing 737 Max aircraft.
In a letter to FAA administrator Steve Dickson dated 20 July, lawmakers say the survey data and related analytical products – including presentations, memos, reports and statistical analyses – will help shed light on factors related to two crashes that killed 346 people, including eight American citizens The crashes led to the Max's grounding in March 2019.
The lawmakers who requested the documents are chair of the House of Representatives' Committee on Transportation and Infrastructure Peter DeFazio, and chair of aviation subcommittee Rick Larsen.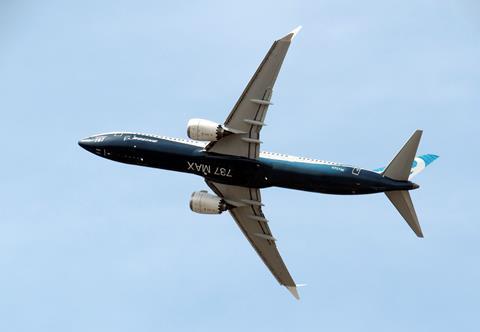 In particular focus is the FAA's Office of Aviation Safety (AVS) management of the Organization Designation Authorization (ODA) programme, which allows aerospace manufacturers to perform some certification work on behalf of the agency in order to standardise processes and potentially save time.
Critics have described the ODA process as being ripe for abuse, saying that companies can place undue pressure on employees assigned to ODA units.
The representatives argue that issues surrounding the ODA "played key contributing roles" in the accidents.
"We understand that the FAA recently completed its '2019 AVS Safety Culture Survey' and that it intends to utilise the results of this survey to 'more effectively implement a new voluntary safety reporting program for AVS employees,' according to an e-mail announcing the survey that was sent to FAA employees," the representatives write. "These are positive steps. But the results must be thoroughly analysed and properly implemented."
The House committee has already held five hearings and interviewed more than a dozen witnesses about factors that contributed to the crashes. In a preliminary report, released in March, the committee cited design failures related to the aircraft's Maneuvering Characteristics Augmentation System (MCAS) as well as Boeing's lack of transparency with aviation regulators as factors contributing to the crashes.
A scathing report published on 1 July by the Department of Transportation's (DOT) Inspector General found that Boeing purposefully held back information about the automated flight-control system on its re-engineered 737 Max during the aircraft's certification process, thus significantly downplaying the risk that it posed.
DeFazio and Larsen have given the FAA until 28 July to comply with their request.