A fuel leak may have been the cause of an engine fire that occurred on a United Airlines Boeing 737 Max 9 aircraft in Newark last week, the US National Transportation Safety Board (NTSB) says in a preliminary report.
The aircraft, operating as flight UA 2376, originated in Fort Lauderdale and arrived at Newark Liberty International airport at 10:19h local time on 28 June after a 2.5h flight. None of the five crew and 179 passengers was injured, NTSB notes in the report released on 7 July. It continues to investigate the incident.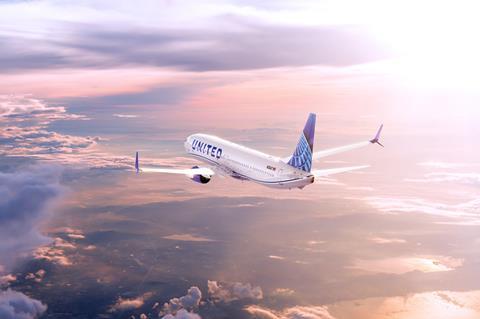 "According to the flight crew, during taxi-in, they observed a No. 1 engine fire warning indication," the report reads. "The flight crew shut down the No. 1 engine, discharged one fire bottle, and the fire warning indication ceased."
"There was no visible smoke or fire emanating from the No. 1 engine, so the airplane was towed to the gate. Upon gate arrival, maintenance personnel observed evidence of a fuel leak from the No. 1 engine," NTSB adds. "The No. 1 engine thrust reverser doors were opened for visual inspection and heat damage and sooting were observed on the engine cases and external surfaces."
The aircraft holds the registration N37516, and was delivered to United at the end of December 2020, according to Cirium fleets data. The airline has 66 of the type in service, with 13 more on order, Cirium says.
Asked for further information, United said, "We can confirm we're investigating."
The incident occurred as the Chicago-based carrier was in the throes of dealing with an operational meltdown which hit its east-coast hub Newark hardest following sustained inclement weather over the course of several days. United Airlines' chief executive Scott Kirby blamed the FAA's air traffic controller shortage for many of the problems, but US Secretary of Transportation Pete Buttigieg, under whose leadership the FAA sits, fired back to say that staffing issues contributed to the chaos, but only marginally.